There Is a Light That Never Goes Out
Luzinterruptus takes it to the streets.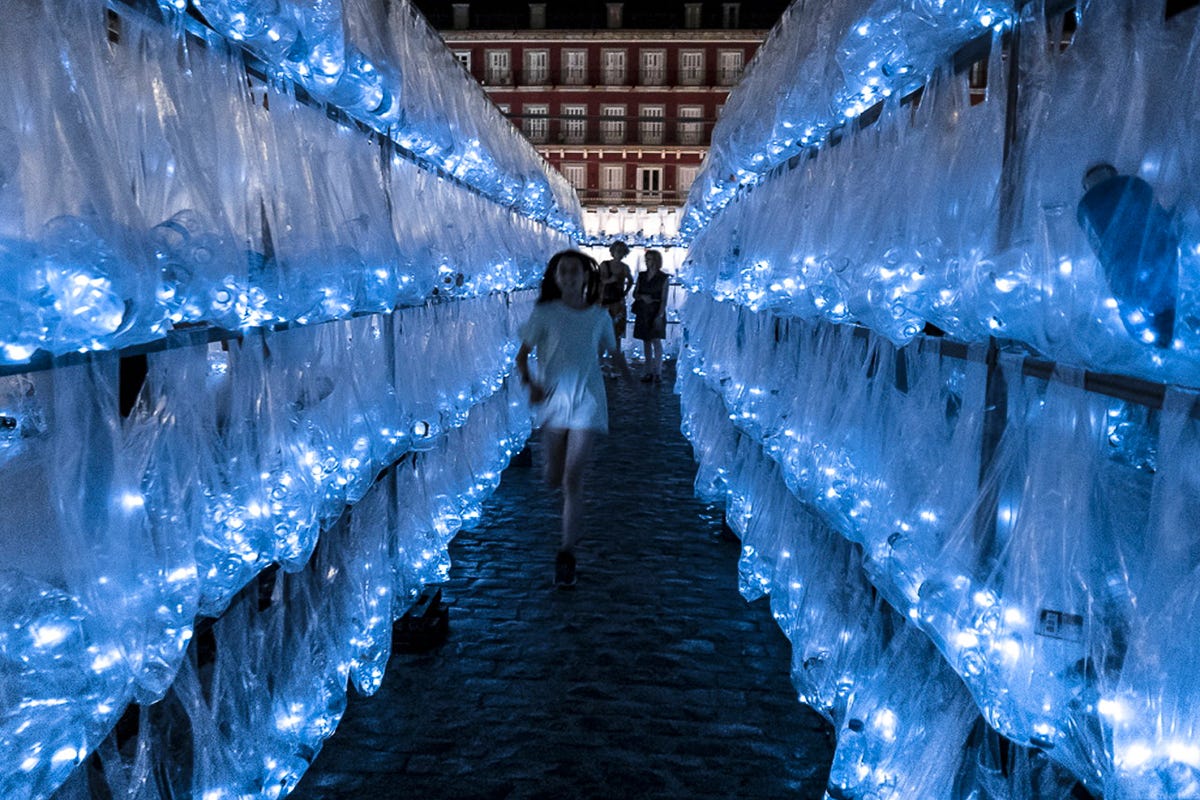 Hi everyone, and apologies for the break. I wanted to take a moment to allow for other voices.
Support:
See In Black—images from some of the best Black photographers today, with proceeds going to charity.
A new public fundraiser to benefit open education for BIPOC communities, taught by a dynamite roster of writers, artists and entrepreneurs.
Creative Ecosystems and Funds that support Black people.
Buy a shirt to fund National Bail Out, a collective of Black organizers, lawyers and communicators committed to ending pretrial detention and mass incarceration.
~ ~ ~
In personal news, I've started a new role as the Tech & Design Editor at Kickstarter. If you've got a fantastic idea, or want to chat, HMU at lfeinstein@kickstarter.com.

Laura Xx
---
Anonymous Spanish arts collective Luzinterruptus creates urgent, illuminated guerrilla installations under cover of night. The faceless cabal has set the streets on fire with a carpet of glowing nipples outside Madrid's Facebook offices in protest of censorship and highlighted consumer glut with Christmas trees made of glowing plastic bags. In my favorite work, Luz installed a series of toilet seats framing the Spanish Constitution, implying that "the government doesn't give a shit".
Their work sometimes appears for just hours before removal by the local authorities. It's ephemeral, like city fireflies—unexpected but always welcomed.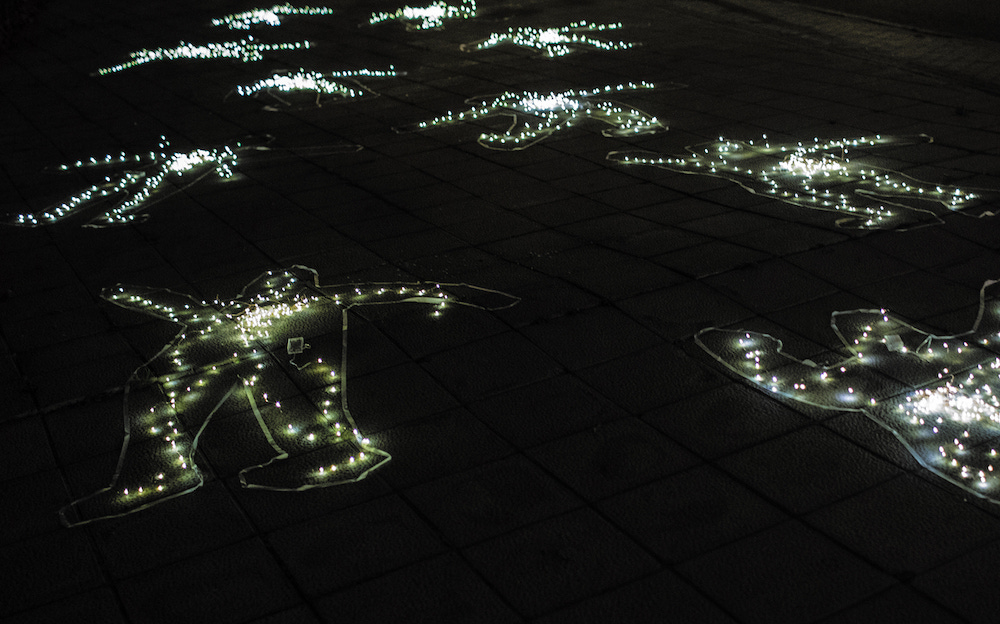 Who is Luzinterruptus?
Luzinterruptus is an anonymous collective that has a variable composition depending on the work that we are carrying out. We are usually three fixed components (all women). For larger productions, we always have professionals we hire to help us. When we go out to the streets to make our guerrilla pieces, we also summon friends who are happy to help us set up.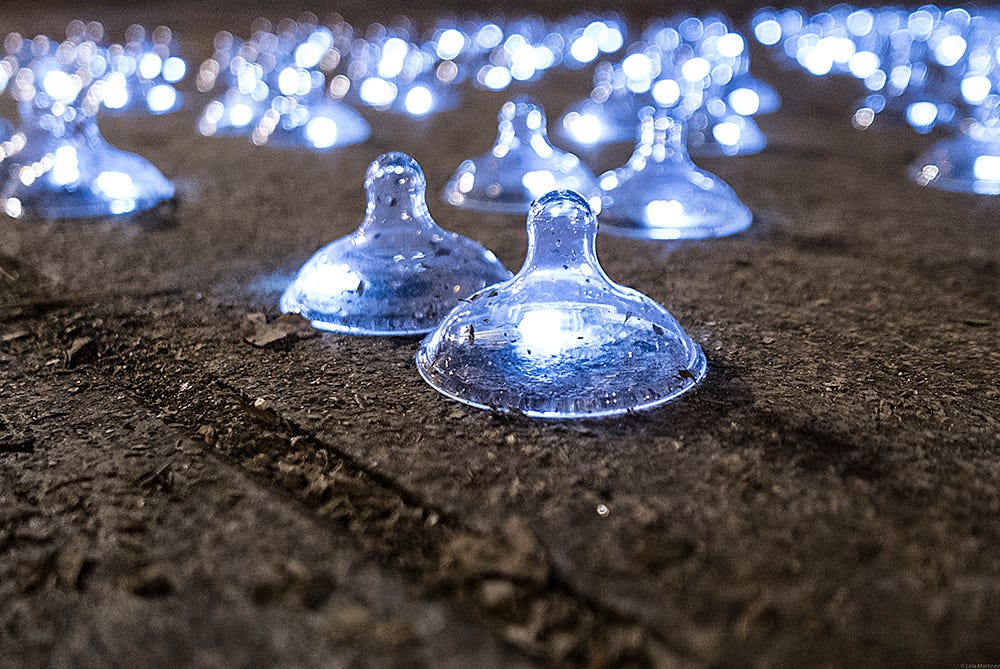 Who are you when you are not Luzinterruptus? Artists, engineers, teachers?
Of course, we have other jobs besides Luzinterruptus. It is important for us to have economic stability that does not make us depend exclusively on the collective. We do not want money, or better, the lack of it, to influence our philosophy and strict way of working. We are also: a jewelry designer, graphic designer and photographer. The rest of our collaborators have work related to art, activism or teaching.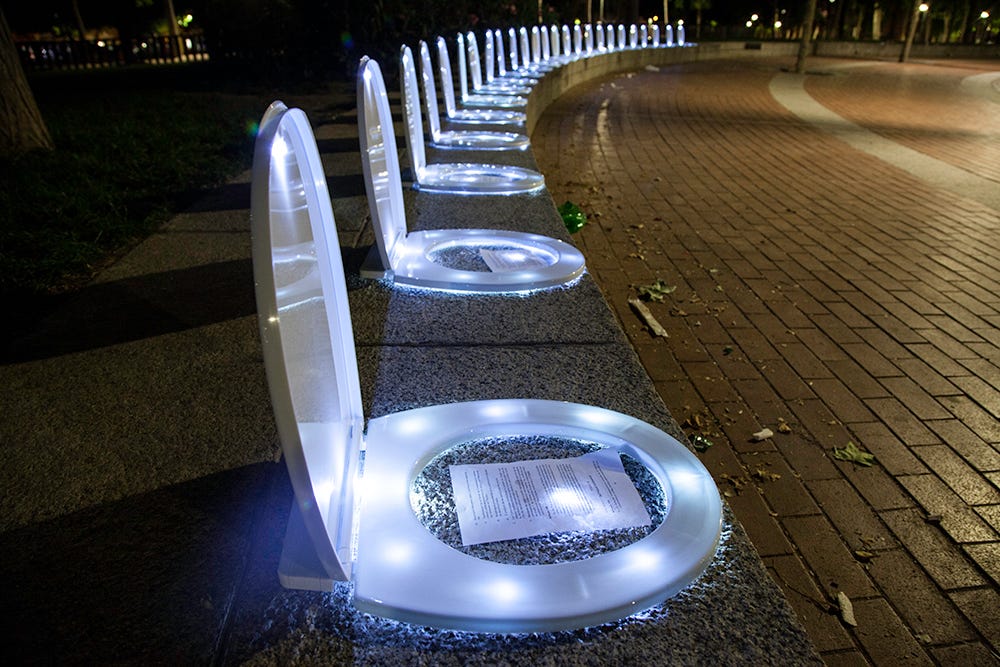 What would you like people to know about your work?
We are a group that arose from the interest of bringing light to the streets, in order to claim issues that interest us, concern us, and that we want to denounce. Or, subjects that simply seem worthy that we would like to put our 'light of attention' on. We have always considered ourselves urban artists and like to work in guerrilla actions for which we do not ask for permission.
We work in larger pieces for events and festivals related to art, culture, ecology or social issues. We never associate with private companies that can use our messages to wash their image or advertise. Only public, social and cultural entities can contract us.
We choose very carefully who we are linked to, despite the fact that this entails a lower volume of work than would be ideal to live well on. But we prefer not to give up our ideas and demands to get more contracts and earn more money. It does not seem ethical to us to work for those who are part of the problems that we criticize so much.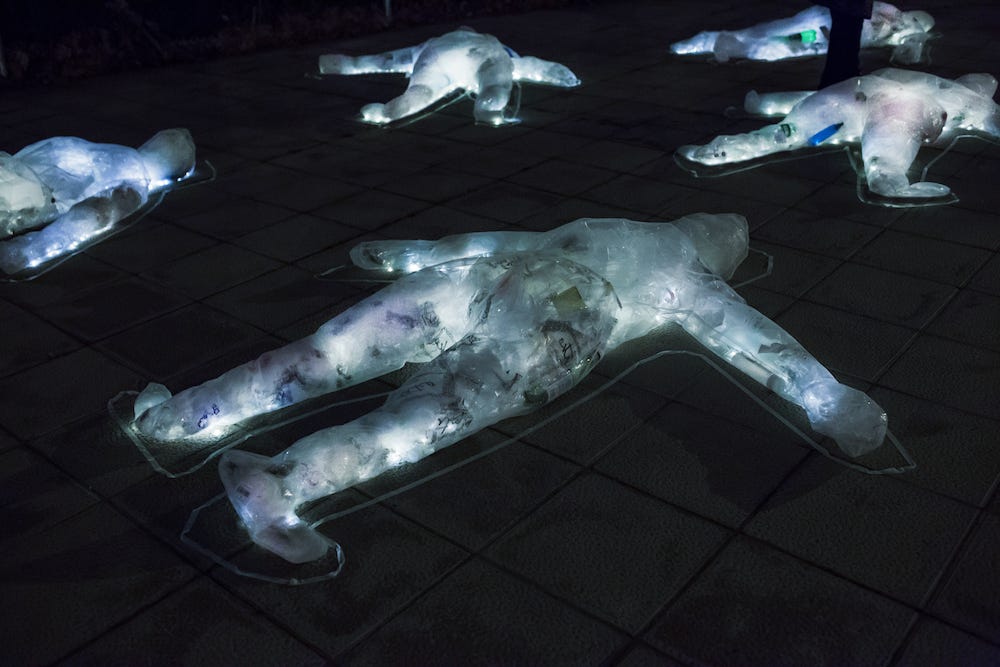 What are some of your favorite projects?
What we like to do the most, that gives us the most satisfaction, is to carry out guerrilla actions with friends, at night, and without permission. These pieces are always self-financed, so we don't have to meet any kind of goal. We have total freedom.
This is how we have worked for more than 12 years, and always look forward to going out again with our lights. But many large format pieces have also given us great satisfaction. They allow us to travel and meet locals to work collaboratively.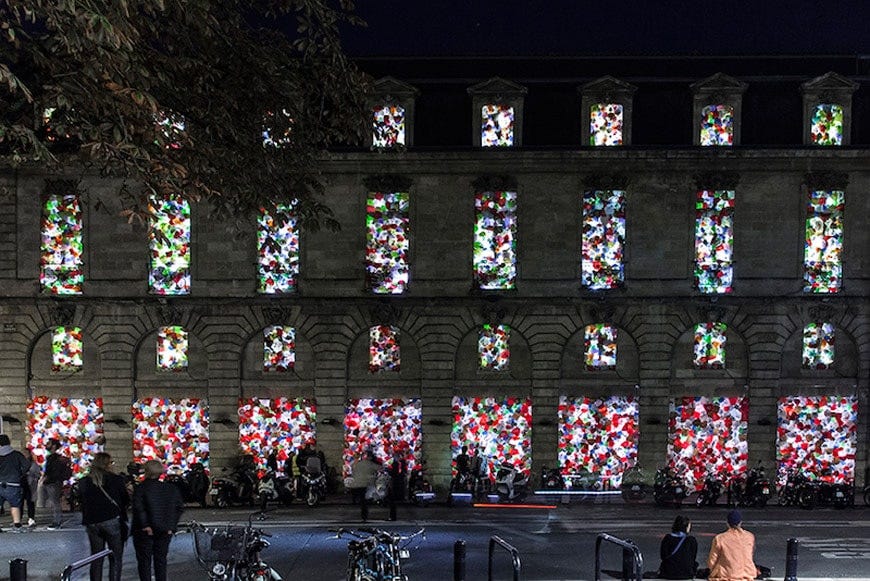 What are the most critical issues for you right now? [Note: this was asked in April]
Well, just at this moment, the Coronavirus has superseded many of the great problems of humanity. A virus that spreads exponentially, and in a short time, has made us so afraid that we do not want to leave the house until we are ordered.
In quarantine, the virus has made even the most basic human rights that we have achieved throughout history disappear, leaving in its wake social and economic chaos that will make us defenseless and easily manipulated. Like puppets in the hands of the powerful, who will take advantage of our fears and profit from our weaknesses.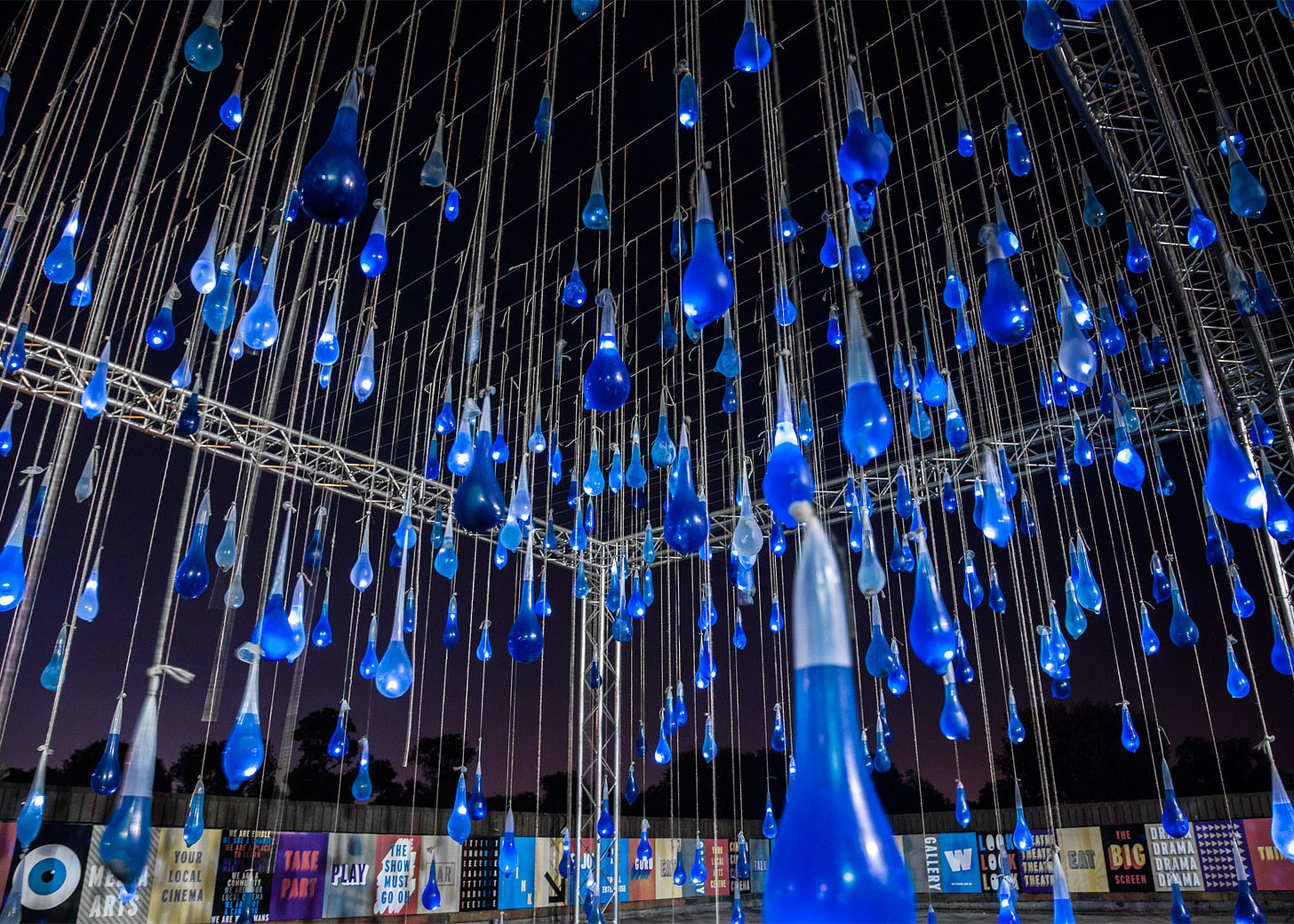 How can people learn more about Luzinterruptus?
Our works are easy to understand, as we have always intended. When working on the street and often illegally, we cannot attach an instruction manual. Let it be seen and understood without further ado. It is one of our premises when working.
It is also important for us to use basic materials that people easily identify with and which, thanks to the light, take on a much more interesting and mysterious appearance.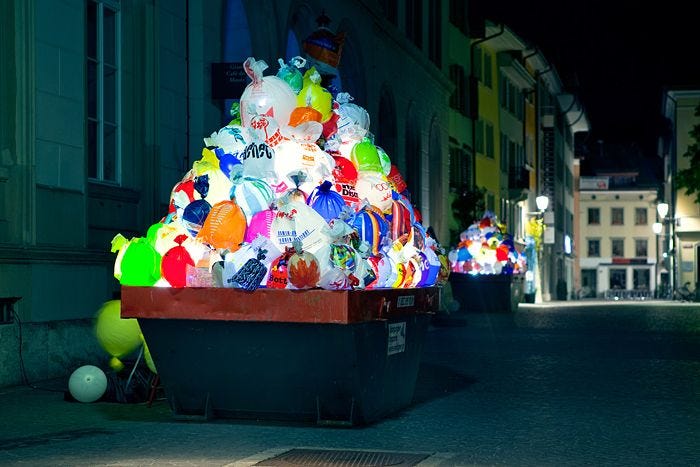 In this new world order, issues such as the destruction of the planet, the overexploitation of natural resources, the alarming consumption of plastics, the burned forests, lack of water, increase in temperatures, the ozone layer, the equality of women, gender violence, corruption ... and so many other vital issues are relegated until the governments of the world decide that everything returns to normal. This will take a long time, and logically it will be preceded by a great economic crisis from which we will be slow to emerge, especially artists.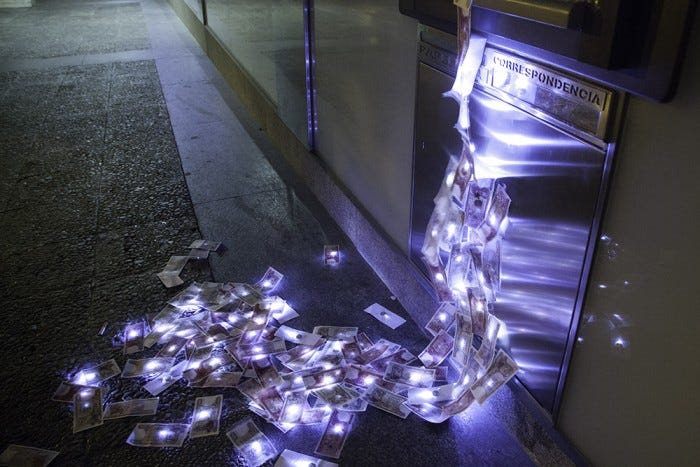 Hybrid ballot box/cash machine spewing Greek drachma
—
Since our interview last spring, Luzinterruptus has sketched out two new installations:
"It's time to get back to the world, although we still are in a whirlwind of emotions and aren't yet ready to artistically shape what we are experiencing. However, we certainly think we need to go back to issues we left off that were themselves quite concerning and are still current, unfortunately. We are, of course, talking about plastic consumption.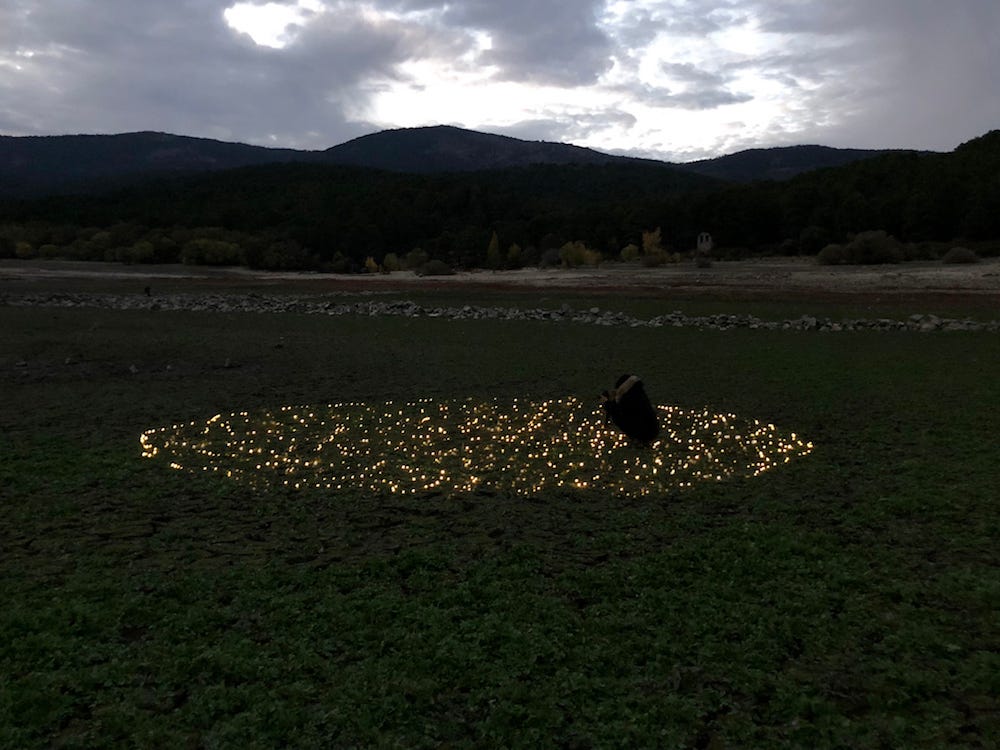 Its consumption has, alarmingly, gone up during these months of lockdown due to the sanitary demand for protection material, the packaging of food, the massive online shopping… together with a widespread lack of recycling awareness.
The idea for Plastic Stuck in the Landscape isn't new. It came to us while we were traveling and visited those marginal places that form the blurry limits between the country and the city, home to vast amounts of waste trapped and abandoned. It is mostly light plastic material, carried by the wind until it gets stuck in something and stays there forever.
The effect is beautiful, sad, and alarming above all. One cannot escape its motion and sound although it is an unhealthy, unnatural scene that evinces the damage this plastic waste causes any environment. It makes scared animals flee, leaving the flora to wither as there are no insects to pollinate."
Luzinterruptus also unveiled another idea for an installation to launch awareness of the massive "burn of trees" that took place a few months ago—most likely caused by climate change and "the greediness and lack of scruples of politicians, companies and private individuals." For more info, visit luzinterruptus.com.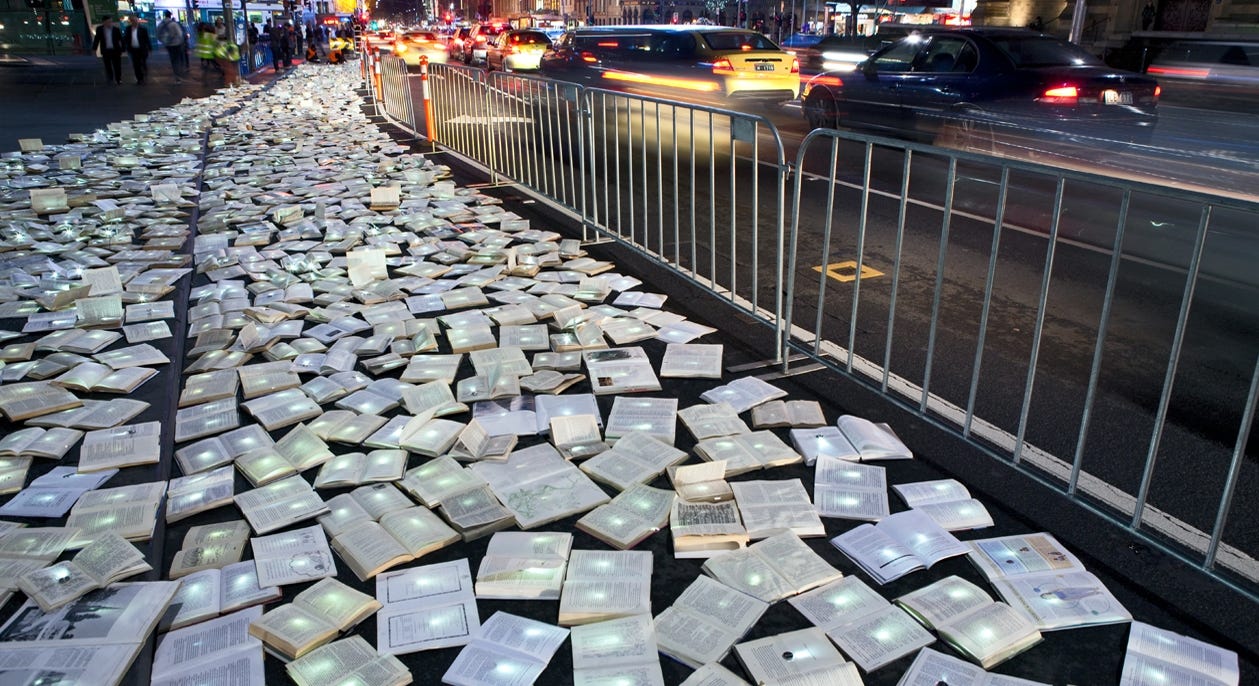 ---
Read on: Sun Ra's Full Lecture & Reading List From His 1971 UC Berkeley Course, "The Black Man in the Cosmos." Support your local Astro-witch. Relax with the world's most beautiful fountains. Try on the micro-gravity gear of the future. Is this the end of tourism? It's certainly changing. Be a global citizen, and educate yourself on escape routes and artifacts. Have we reached peak Girlboss? The world's largest digital art center opens in a WWII submarine base. Peruse the COVID Art Museum. The smell of outer space. Faith Ringgold on art and activism. Meet toppledmonumentsarchive.org, an artist-run digital archive of dethroned colonialist, imperialist, racist and Confederate monuments. Grab a Nan Goldin. Get distracted by Dachas. Peep a low-key Frida Kahlo.
Islands in the Stream: Stay frosty with the Icelandic Oscar contender. CAMERA-Centro Italiano per la Fotografia x ICP is offering an Online Intensive Course in Visual Storytelling. Tune in to DJ sets from The Whitney. Explore the best apps & sites to learn music.
Want to be featured in Slow Ghost? Drop a line.
---
Slow Ghost is a weekly newsletter covering the next wave in culture, brought to you by writer, editor, and producer Laura Feinstein. Slow Ghost logo by Tyler Lafreniere.