The Subversive, Transfixing World of Jelly Art
More than just jiggle.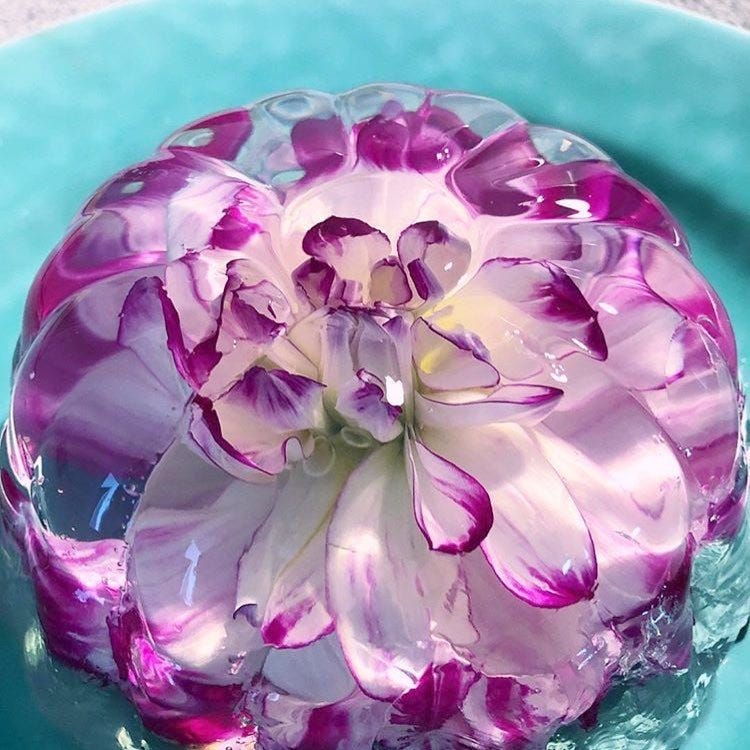 Welcome back to Slow Ghost. If you support DIY arts and culture journalism I hope you'll consider spreading the word.

Since we last talked, I wrote about the bold graphics and hidden stories behind the golden age of Lebanese cinema; explored the elder design revolution for Core77; was interviewed by Stet Magazine on my attempt to be a quar bike warrior; and helped a new batch of creators launch on Kickstarter. Have a great idea? HMU lfeinstein@kickstarter.com.
---

There's Always Room for (a) Jell-o (Revolution)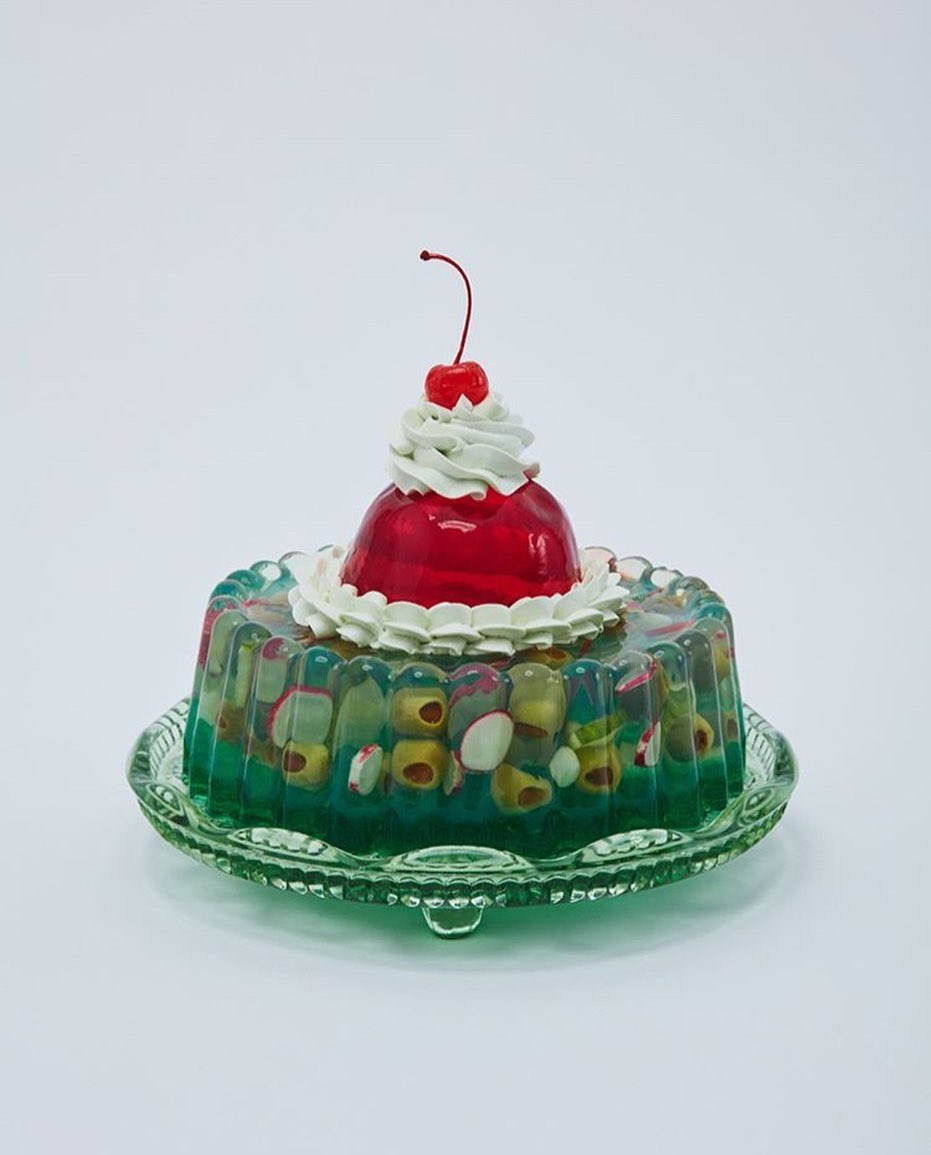 It wiggles, it wobbles, and it was likely a significant part of your childhood.
"Jelly has been a feature of our diet for the last 600 years," explained Radha Burgess, the London-based creator of @QuiverJelly, over Instagram. The picture-sharing mega platform has recently become a hub for a new generation of artists experimenting with jelly, the edible medium used to explore gender and identity in a post-digital world. "The Stuarts made chequerboard type jellies with gold leaf and blancmange squares, while Regency jellies were the centerpieces of elaborate dining tables," Burgess noted, contextualizing the jiggly goods in a rich tradition of food as joyful self- expression.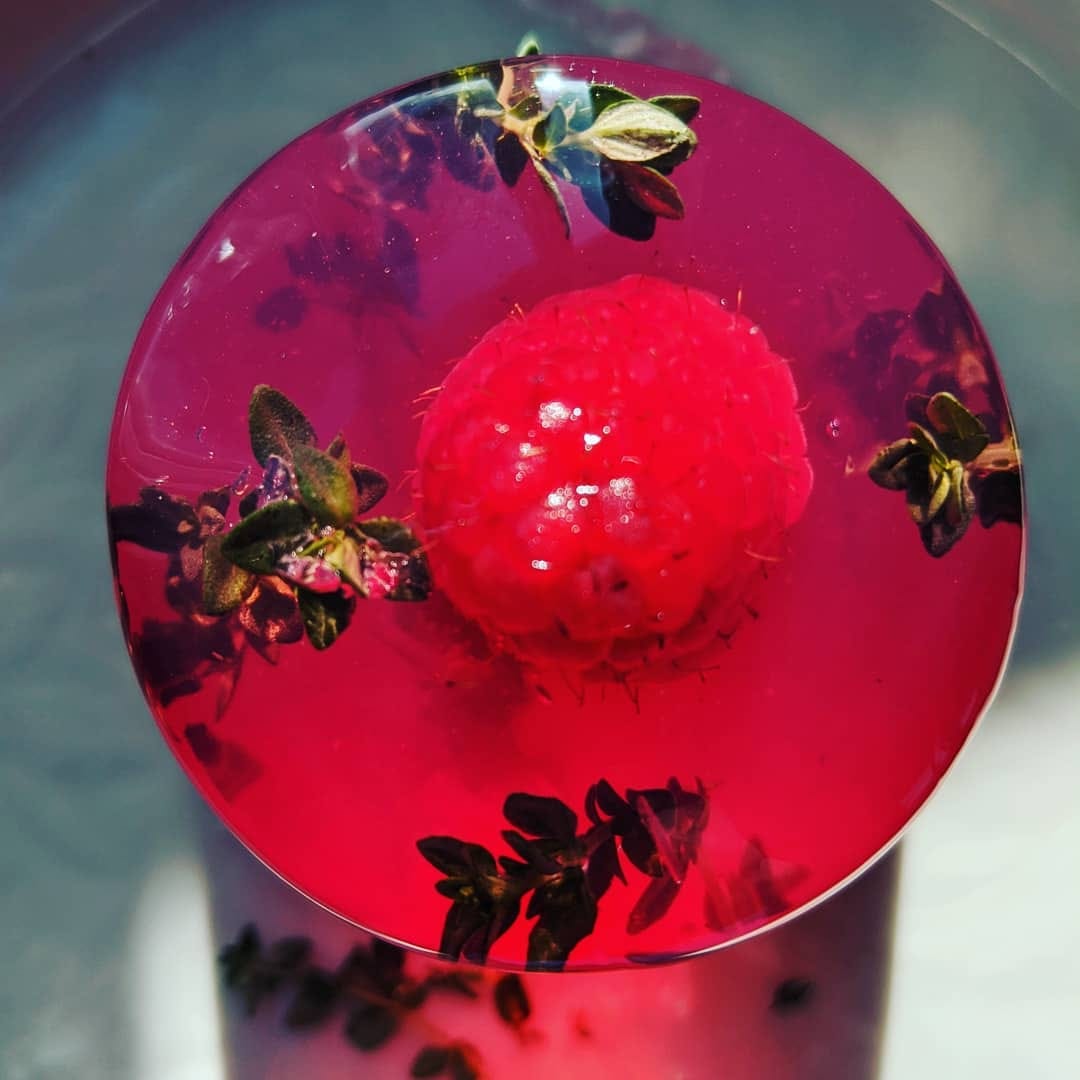 @quiverjelly
In the 19th century, the industrialization of England empowered the creation of affordable ceramic molds for middle-class households, giving birth to the democratization of jelly-making. In Victorian-era America, homemakers ushered in a translucent renaissance. But it was with Jell-O, first packaged in 1897, that jelly went mainstream, becoming synonymous with female domesticity.
"Starting in the 1920s, Jell-O was advertised to women as an affordable diet trick; in the 1950s, as a dinner-party dessert; in the 1970s, as a quick treat for independent women who were too busy to cook," wrote Emma Orlow in The New York Times. Today, queer and female artists have reclaimed the Jello-O mold: turning it into a subversive and accessible art form and empowering it to blossom (literally) online. Show Me Your Aspics, a 40K strong group of jelly art lovers, posts daily everything from floral molds to jiggle-inspired ASMR videos.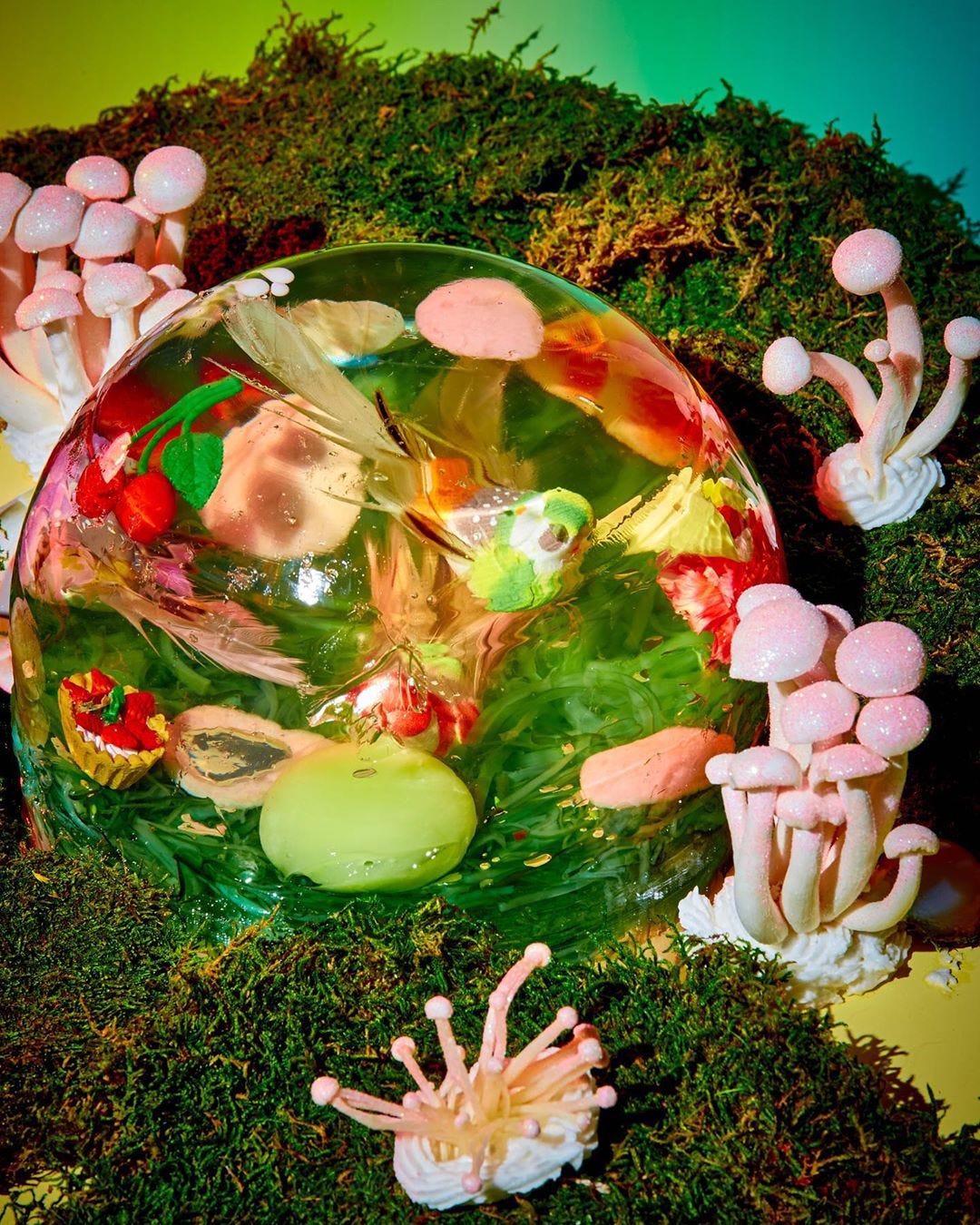 "I have always loved how confrontational food is," explained artist Jen Monroe, the creator of @BadTaste.Biz. "No other art form involves as much physical interaction between the art and the consumer." Food, she noted, is a universal language. It's utilitarian. But it can also be sculptural, fetishistic, medicinal, political, ritualistic.
Monroe, whose commercial work includes crafting marzipan and rock candy geodes for Opening Ceremony and pickled sakura raindrop cakes for Carolina Herrera's 2019 Fashion Week celebration, explained that jelly is a great equalizer. "A lot of us had strong aesthetic connections with it during childhood, which resurfaced later as we started turning our attention towards food as a medium," she said, noting that gelatin is not only beautiful, it's rife with aesthetic possibilities.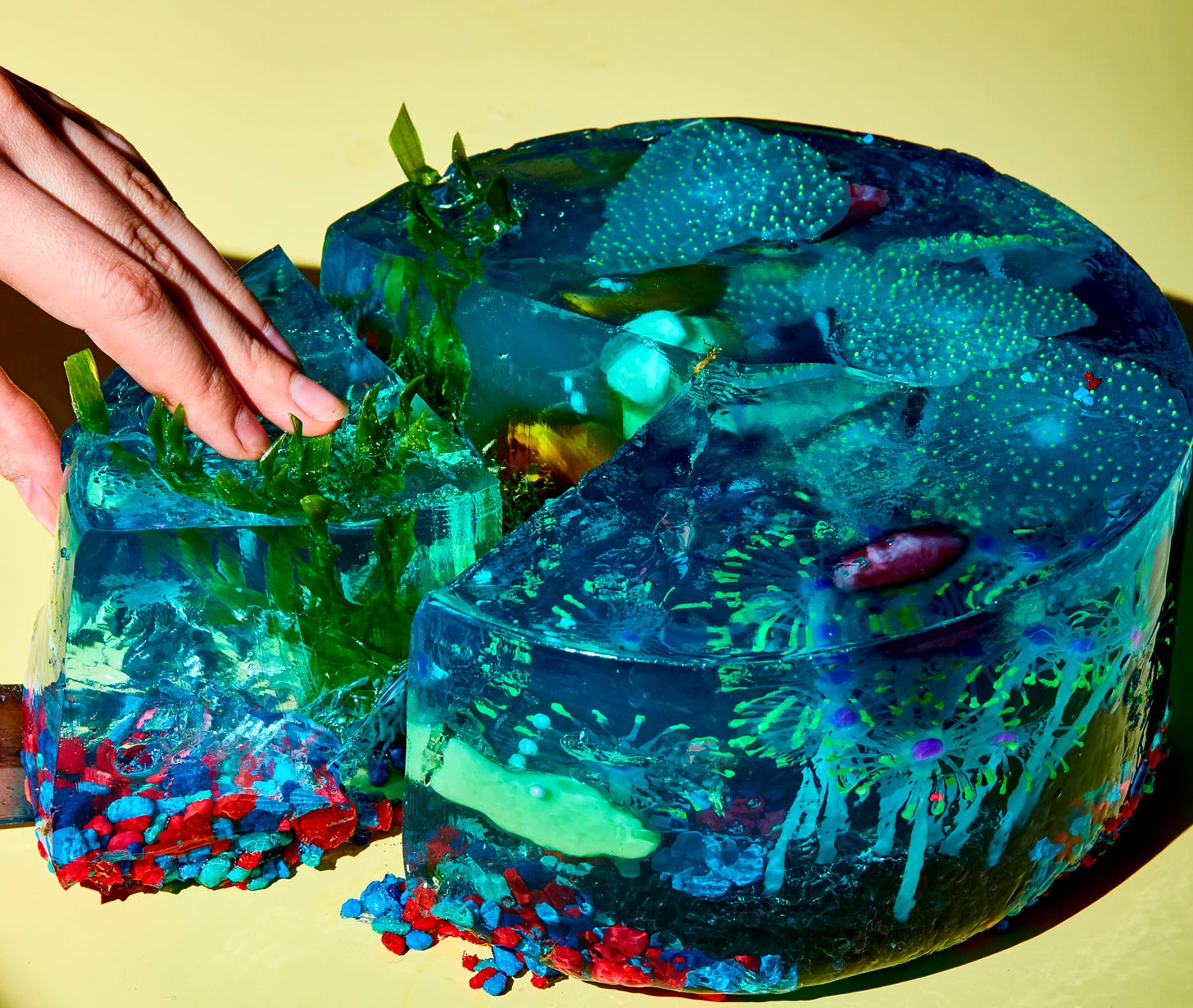 "People talk about using gelatin as a kind of reclamation," she asserted, referencing the medium's strong associations with oppressive, heterosexual domesticity. When used by artists in work with more queer, feminist or deliberately pornographic contexts, it becomes a way of subverting gelatin's fraught history.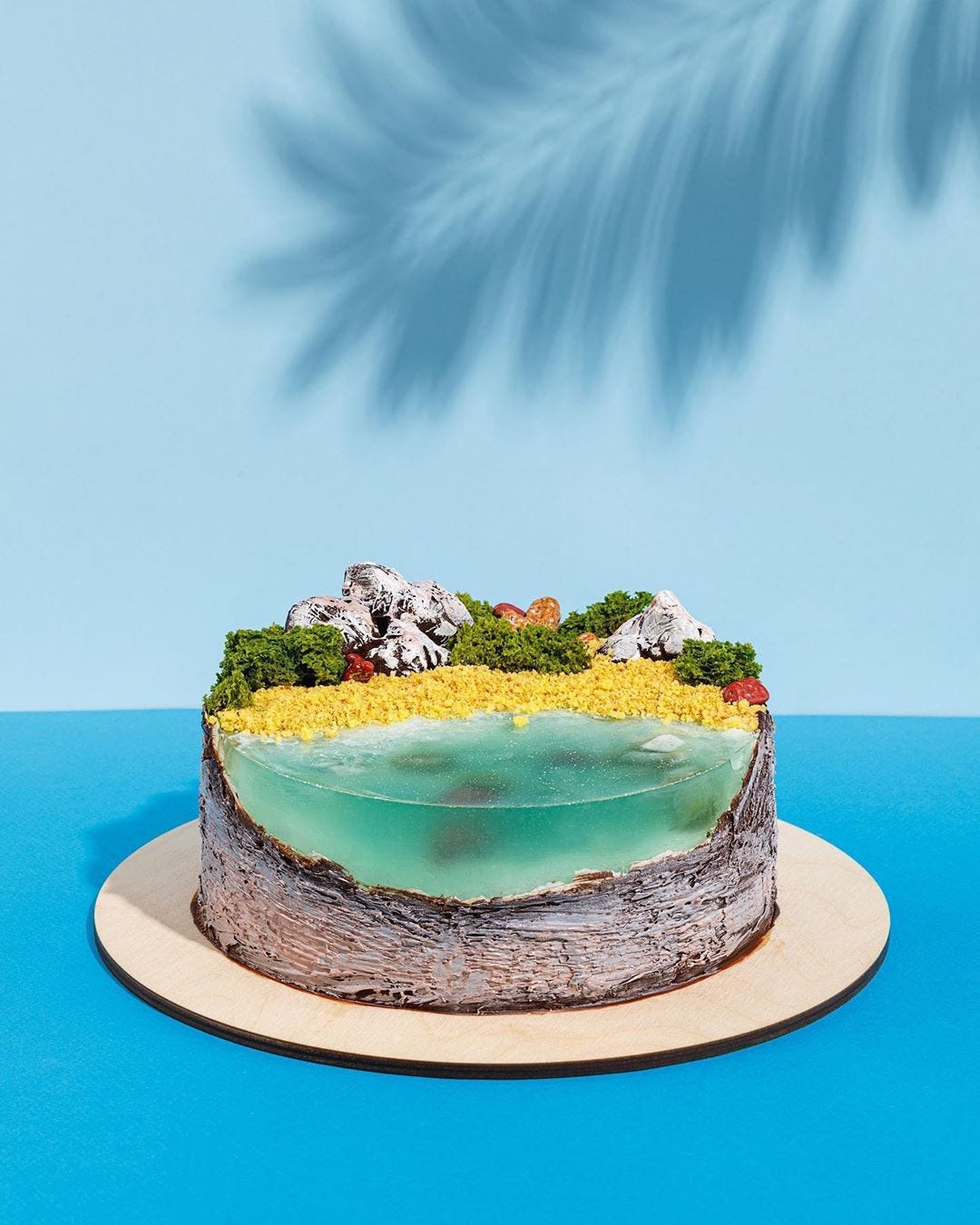 The trend goes way beyond the fine art world. Search the hashtag #JellyArt on Instagram, and you'll fall down a sugary, surreal rabbit hole. In Eastern Europe, vacation and tropical-island themed works defy gravity and capture the imagination. In parts of Southeast Asia, creating elaborate, Noah's Ark-esque tableaus suspended in gelatin promotes a unique form of one-upmanship. These cakes are pure, uncut escapism. They harken to a simpler, lighter, and more delicious time—while also allow us to be transported into strange and often luminous worlds. They are both retro, and oddly hyper-futuristic.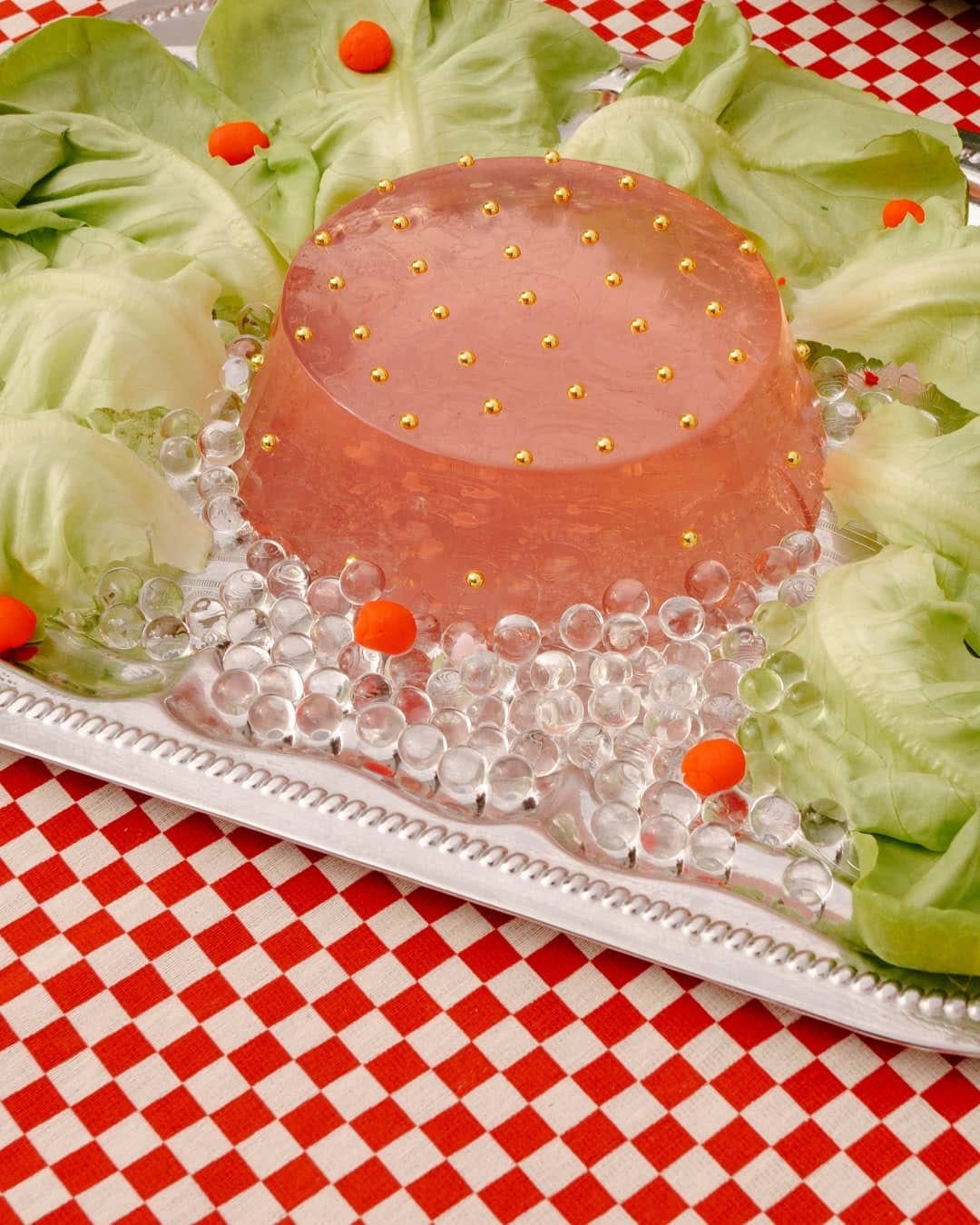 @aspic_studio
"Since the beginning, we've been attracted to trans-lucid, shiny things and pale pink color," said Nidia Juarez and Ananda Cordero of Spain's @aspic_studio, explaining that jelly art has offered her and her partner creative freedom in their day jobs in art direction and graphic design. At the time of @aspic_studio's creation, Nidia was working with gel, gems, crystal and quartz, while Ananda was developing a jewelry brand with epoxy resin. "So, we both decided to try something that you could eat and still have the transparent feature."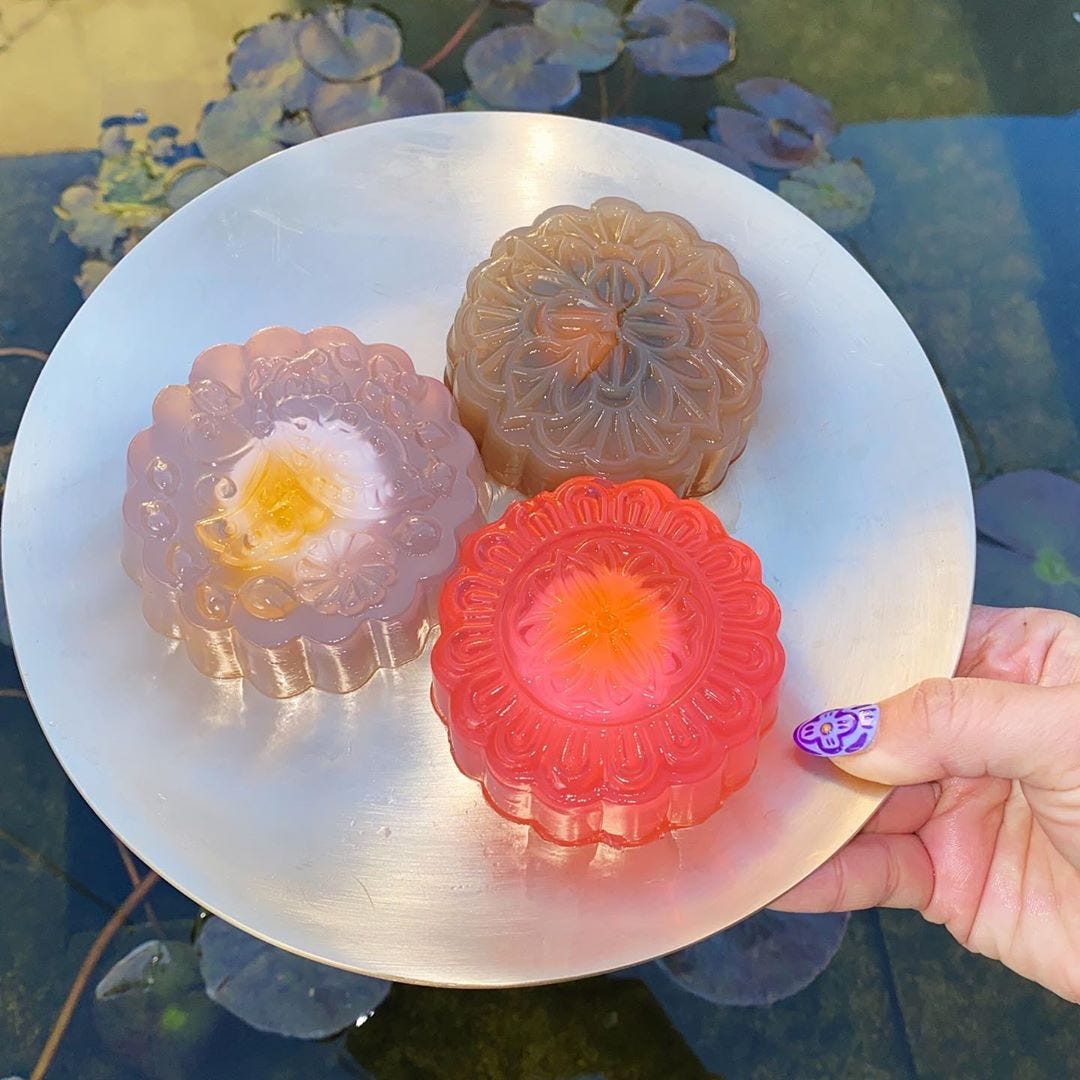 Jelly mooncakes for the new lunar year.

Lexi Park, aka @eatnunchi, draws on her experiences in the fashion world, the day-glow color palette of her California surroundings, and her Asian heritage to create surrealist, jelly masterpieces. "I had just turned 30 and had been questioning whether or not I wanted to keep doing what I was doing," said Park, regarding @eatnunchi. "It felt like a quarter-life crisis. I've always been a very visual person and loved to cook and wanted to put those things together. To take what I've learned in fashion, and apply that to food. So I just started playing around."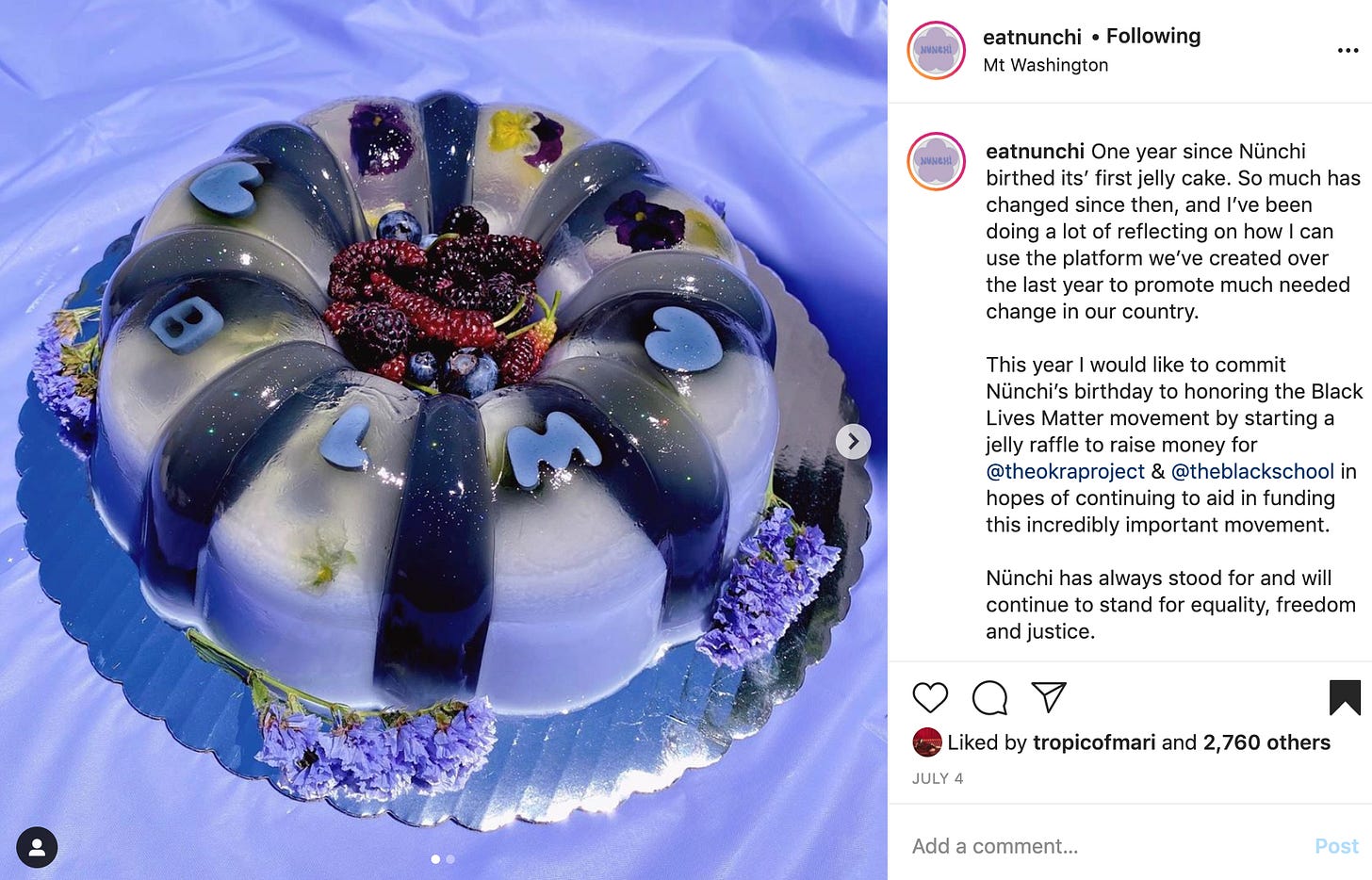 She is also inspired by Los Angeles' queer dance night scene and global food markets. "I'll go through every aisle of every market to see if anything catches my eye," said Park. Recently, she created a fantastical jelly fruit cake with coconut lychee spheres and citrus caviar for a friend's baby shower, aesthetically recalling traditional Chinese food art—the kind now celebrated on Instagram accounts like @chinese_plating.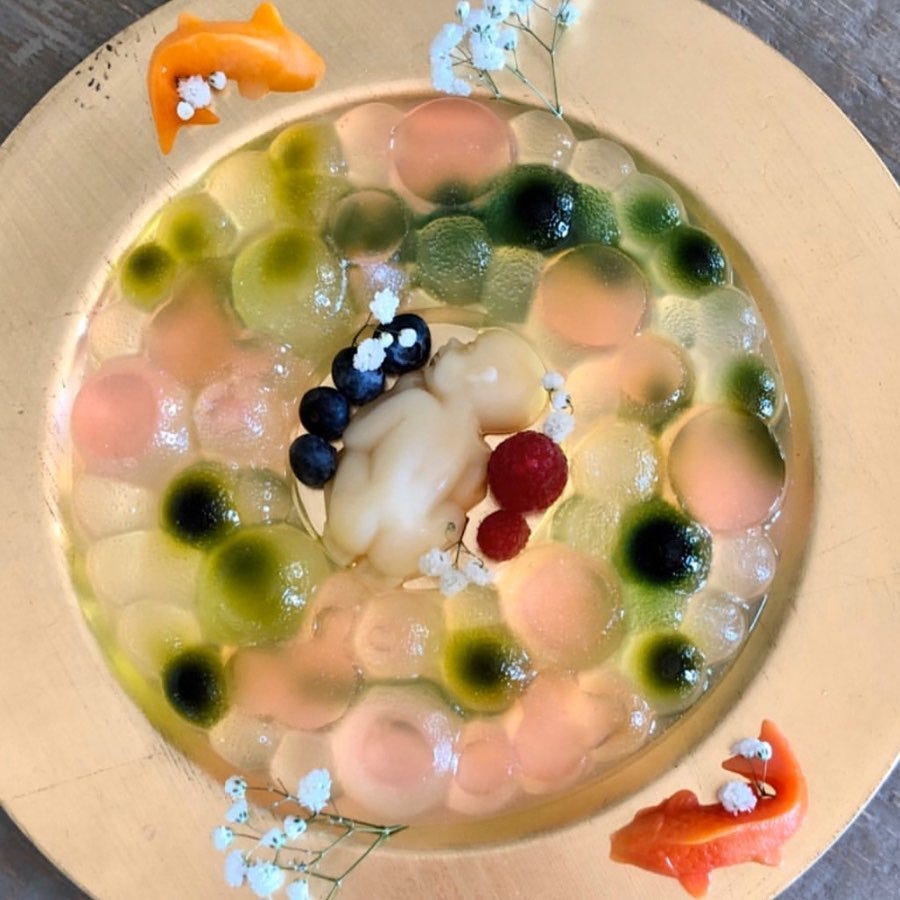 Park, like many other socially-conscious jelly art creators, has moved away from traditional gelatin, which uses animal cells, in favor of an alternative made from agar agar extracted from seaweed and red algae.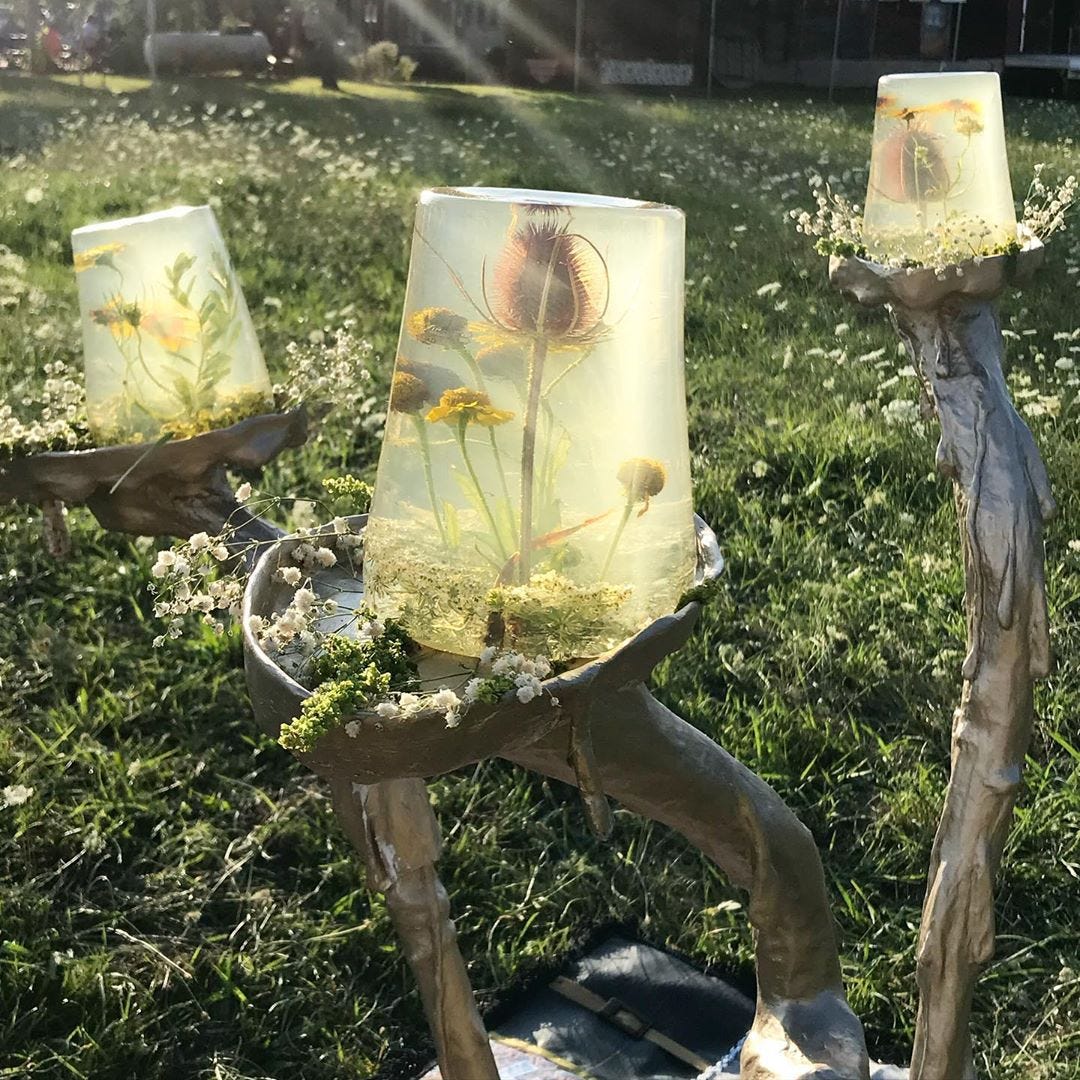 One of the medium's most influential artists, Vancouver-based sculptor Sharona Franklin, aka @paid.technologies, has embraced gelatin's primal origins. A disability rights activist, Franklin incorporates medicinal herbs, 70s erotica aesthetics, and an almost Kate Bush-level of feminine yearning into her work, using gelatin as a rebuff to "one-size-fits-all wellness culture" and highlighting the healing power of stem cell-derived medication. Franklin also writes about bioethics and promotes disability awareness and personal connection through multiple Instagram accounts. "When I started making art I wanted to show the more human aspects of living, and less this facade of design or aesthetics," Franklin has said of her work. "I really wanted to start talking about disability, biotechnology, pharmaceuticals—a lot of my gelatin work is a shrine to cellular use of animals."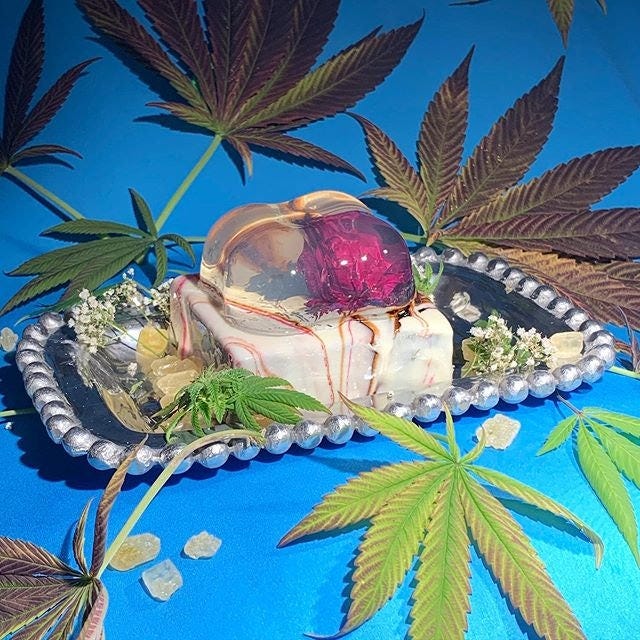 These are all heady concepts for a medium once relegated to an after-dinner treat but point to the limitless possibilities of creating with jelly. The work is also hella fun. Regardless of how you may feel, taste-wise, about the wiggly foodstuff, it seems—at least in the design world—there really is always room for Jell-O.
---
Read on: The many second lives of seaweed. The scent of our lives. Rockwell Group reimagines the restaurant. Grabbing Nick Cave's "cave things" wallpaper.
---
Slow Ghost is a newsletter covering the next wave in culture, brought to you by writer and producer Laura Feinstein. Slow Ghost logo by Tyler Lafreniere.