Tabitha Soren's Second Act
On building something new and changing how you engage with the world.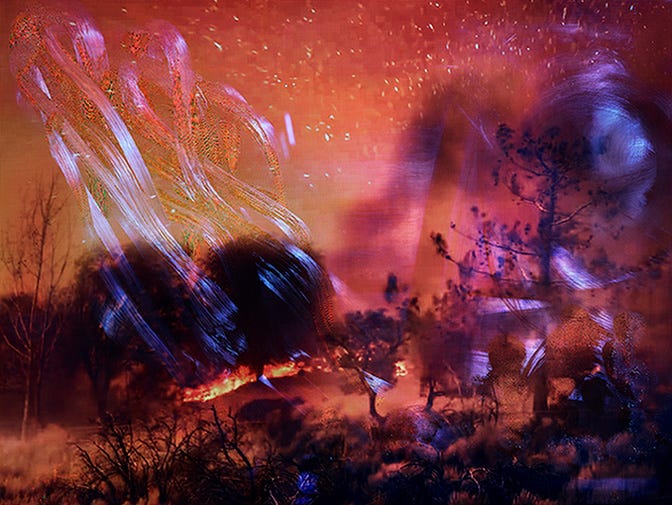 SURFACE TENSION, Orth Contemporary

A protester draped in the American flag, a cresting red wave, a pregnant woman chased by an unseen force — these are the subjects of Tabitha Soren's work, which radiate urgency, anxiety and intense empathy.
Long before her numerous solo shows, works on collection at The Getty and the Harvard Art Museums, and selects in California Sunday Magazine, Soren held the world's attention in a different way. As a journalist at MTV in the 90s, her accessible interview style, engaging everyone from Axl Rose to Bill Clinton, defined MTV's golden era and gave rise to the youth-driven media of today. She is perhaps the only journalist with both a Peabody Award and a cameo in a Beastie Boys video — all before 30. Now, having evolved as both a storyteller and a creator, she's turned her critical lens onto the fine art world.
Soren's mixed media and abstract work, intimate and vivid, recall the grit and glamour of Marilyn Minter. At the same time, her ability to capture the loneliness of an existence in front of the camera, and the swirl of life as it happens around us, belong in the vein of Alex Prager. In her recent collection, Surface Tension, she highlights the messiness and unpredictability of our era through smudged and painted photographs, shooting iPad screens under a raking light to reveal the human trail we leave behind, her fingerprints transforming and transposing reality.
---
"I might as well do what I want"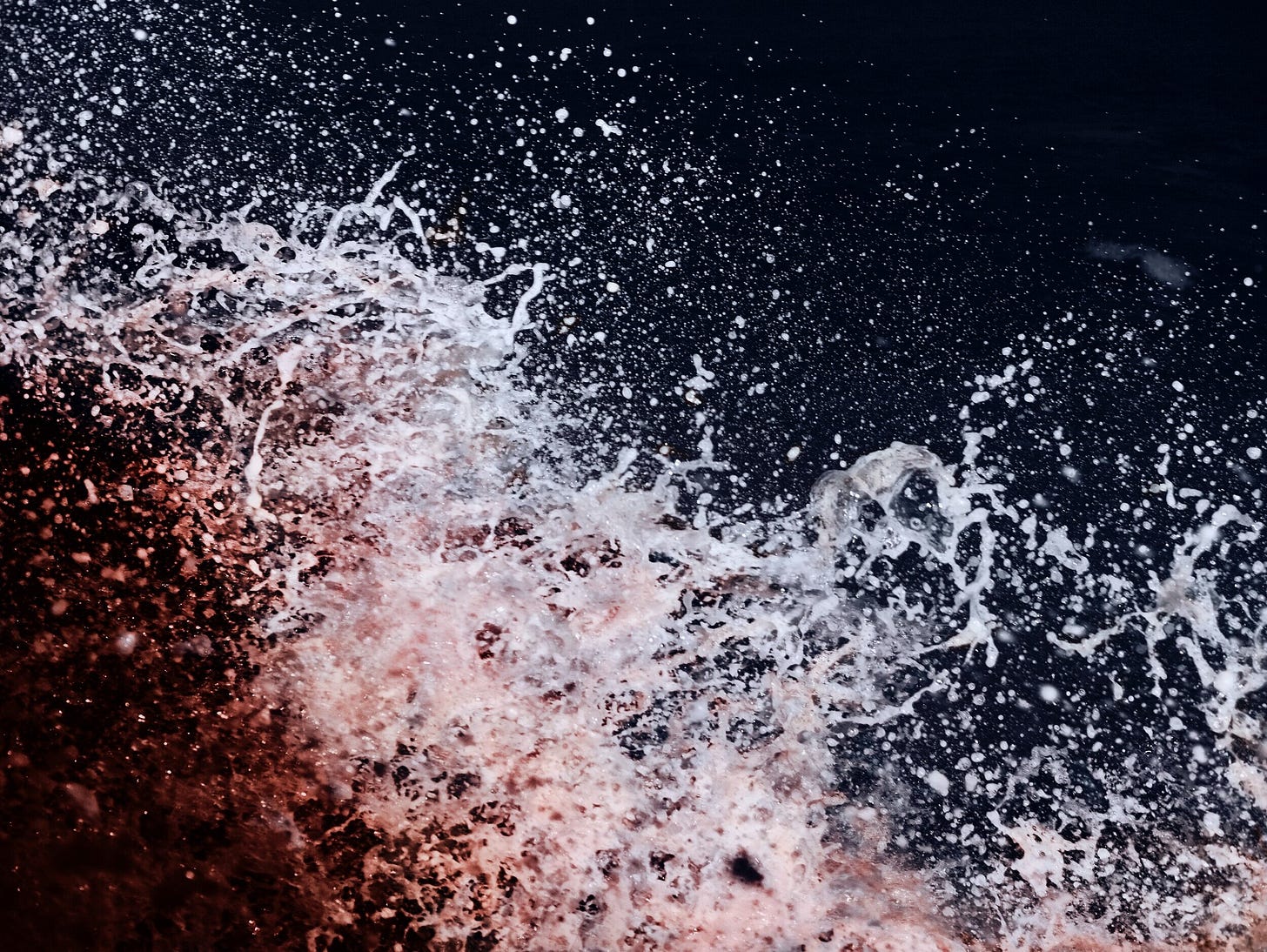 PANIC BEACH, Equinom Gallery
What is new with your work?
I have a solo show opening whenever Mills College reopens as part of the Feminist Arts Coalition. Surface Tension is about the isolation of the virtual world and has always had a very large section about resistance, police brutality and politics of equality. It would seem that the work has only become more relevant during this American moment. All schedules are up in the air – same goes for the Surface Tension book and a couple of other book projects I've been working on. For me, it's hard to stay focused without firm deadlines. I'm looking on Instagram, seeing the artists who are showing images of themselves making art during "studio time" — and thinking those people must not have kids.
Instagram is all a lie. I find, now, people can only sustain maybe 10-15 minutes of concentration at a time.
It makes me feel guilty! It's all I can do to post some throwback picture. I have nothing new. I think journalists are a bit different. News gives you a narrow focus that allows you to motor ahead, as with any deadline. But this is a time when you learn who your real community is. Everyone is figuring those things out.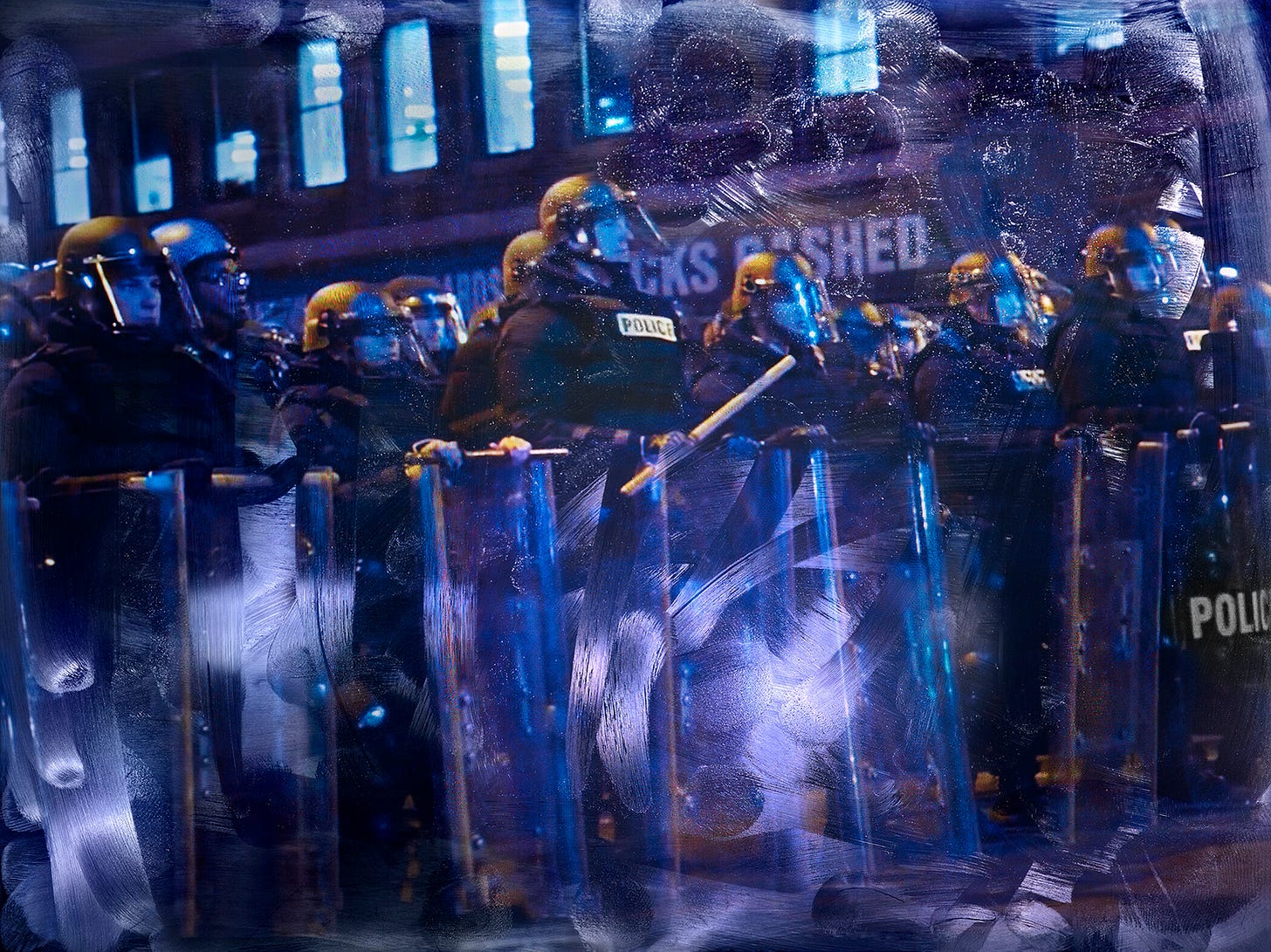 SURFACE TENSION, Orth Contemporary
You come from a high-profile, news-driven background. Was the art world an adjustment? 
It mostly just puzzles people. My TV agent, only half- jokingly, says, "you're the most downwardly mobile client I have! Why are you doing this to me?" She's given up on luring me back, I think. Other people, mostly Americans, message me over Instagram, and will often say, "why in the world would you ever give up being on TV?" It feels like they are questioning my American identity. I guess we're supposed to want to be making our mark on the world in this specific way, and fame is "the point." But I was pretty uncomfortable with that kind of spotlight on me. It wasn't a good fit. There is a downside to being in the public eye. Look at all these reality TV stars. No good comes of that life. At all. And yet, there's still a line out the door to be on these shows. It's very perplexing to me.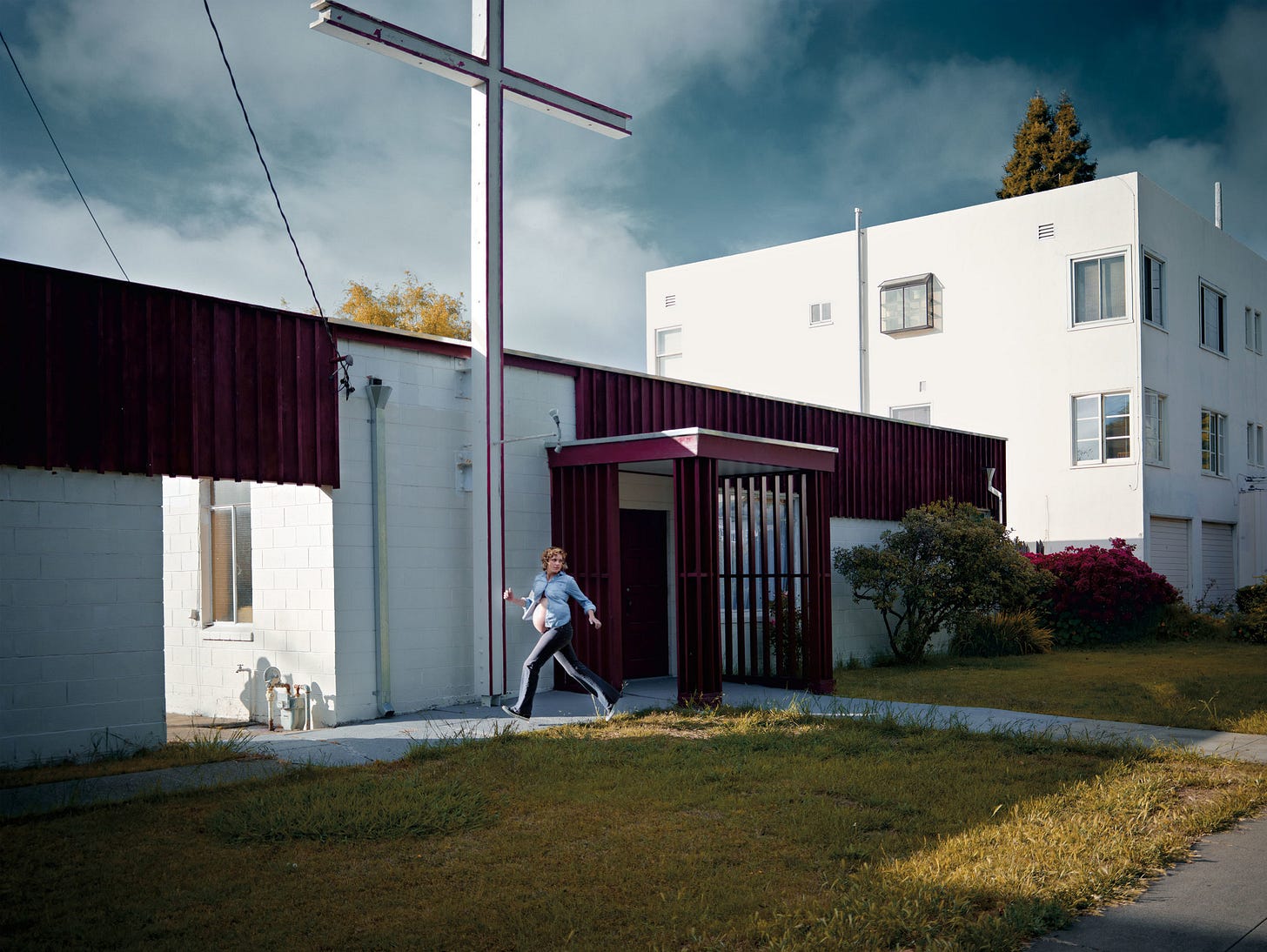 RUNNING, Equinom
What was the transition like from in front to behind the camera?
I took pictures during my first career out of habit. As a child, I was an avid recorder of my environment, taking snapshots with my pocket-sized Kodak Ektralite 10. My dad was in the air force and my family moved frequently around the USA, Germany and the Philippines. Besides my immediate family, every person in my life changed every three years. I learned over time that if I took pictures of my friends, I could take them with me. None of the pictures are deliberately artistic….archival images of the blue shag rug in my bedroom or my pink canopy bed. I was always doing this but didn't have grander artistic ambitions. I did not grow up going to museums. I did not know other artists. I didn't take drawing classes. In fact, I'm just learning how to paint now, and it's terribly evident. But what I've found is that despite this, I have something to say — and it's humbling to have your hands, and not your head, in control. In my first career, I started finding myself in situations where other people were taking pictures of me doing my job, at the Women's March with Gloria Steinem, or in the Oval Office, and eventually I thought, "it might be more fun if I was taking the pictures?" 
One of the highlights of my 15 mins was spending a day with the legendary Mary Ellen Mark shooting me for US Magazine.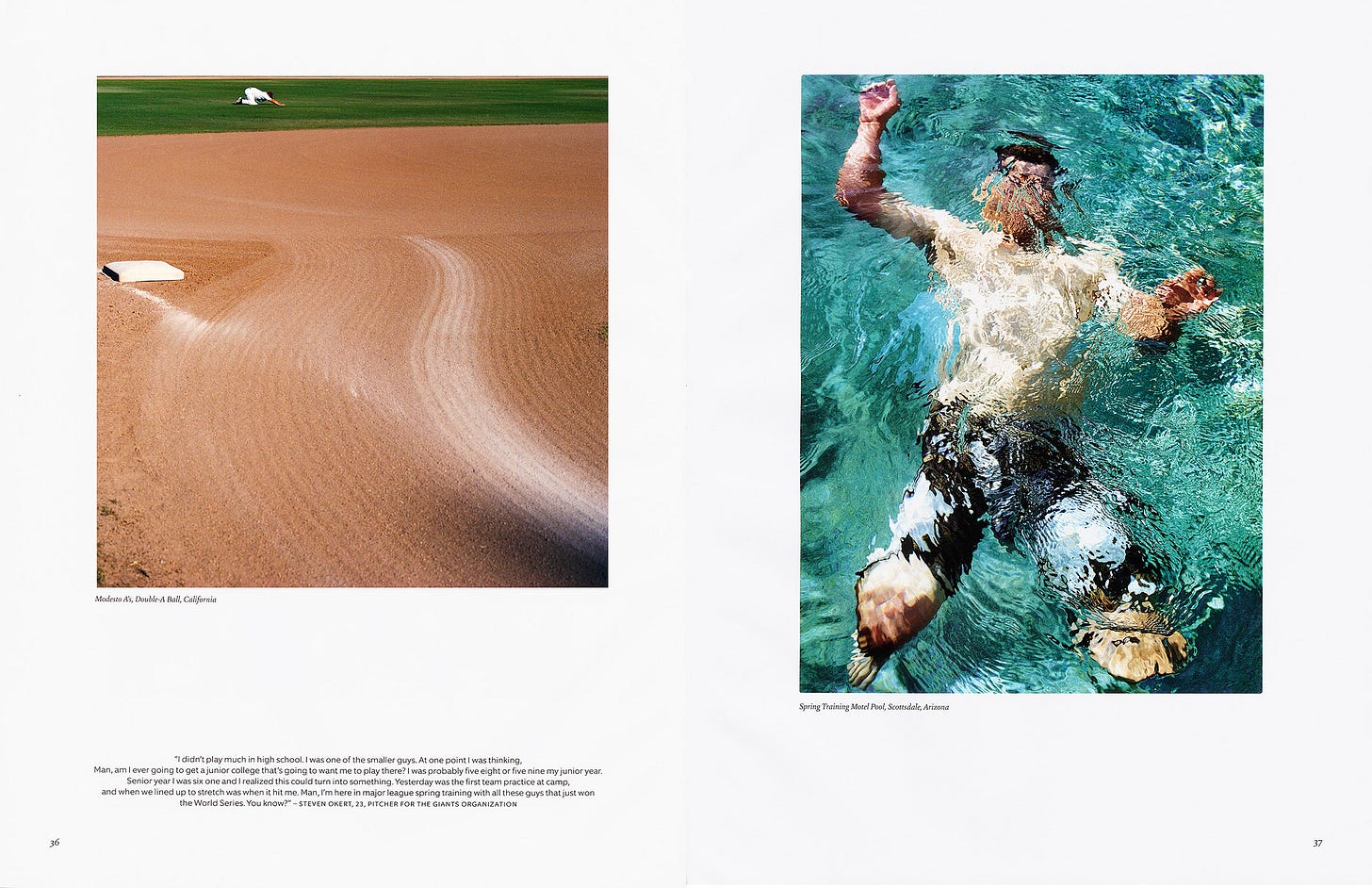 Was your career switch a moment of epiphany or small steps?
It was, in many ways, deciding to change the way that I was communicating with the world. There wasn't much nuance left in television. The more successful I got, the shorter the pieces became — and the wider the audience. But there was less room for any grey area. It had to be "who, what, when, where, why." The natural answer to this was documentaries. So, I spent time as a Knight Fellow at Stanford. At MTV, the shows I did had 80 million viewers for something as short as 22 minutes. The more time I spent with the filmmakers at Stanford, or other local filmmakers, I realized much of their time is running around ginning up funds, and then if they're lucky, they get to show it to a film festival audience. I felt that if I were going to do something smaller and more nuanced for a select audience, I'd rather have it be pure art. Instead of doing 30 frames a second, I decided to do one at a time — and that's why I started with photography.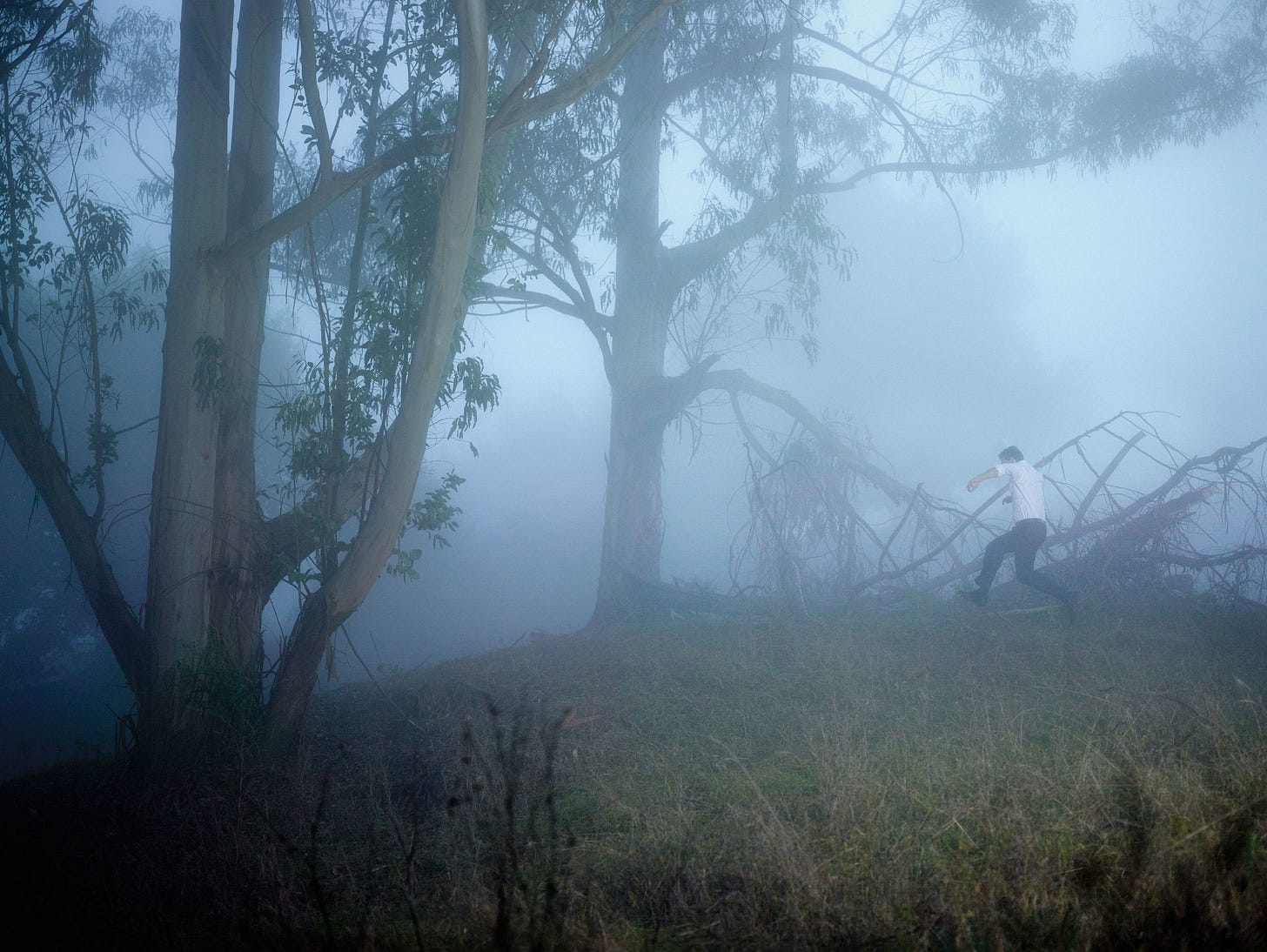 RUNNING, Equinom.
How did it feel to try a new medium after established success?
I admire artists like Hank Willis Thomas and others who can float between mediums, and nobody wags their finger at them and says, "stay in your lane." It requires a lot of risk-taking. I have mainly focused on photography, but the work that I'm interested in making now is outside those realms too. It's a way to keep me interested and not do the same thing over and over again, even though it's a much slower way to have a career. I'm at a weird age. The art world is not as excited about middle-aged women as those at the very end of their life span or a young MFA. So, I might as well do what I want.
Does this work feel more rewarding to you?
It does feel more internally rewarding. I think there's certain temperaments that are more designed to be in the public eye. I am much more comfortable — well, comfortable is not the right word, art doesn't make me feel comfortable — I don't think I was built to be in front of the camera and have people form opinions about me when they've never met me. I was very comfortable doing work when I was a local reporter in Vermont and worked at Long Island News 12 and NBC, where the story was not me doing the story. The story was just the news itself. But when people were interested in my work with MTV, the focus became on me personally. And that was not expected or pleasant. 
Really!
There were certainly fun advantages to being a young, single woman in my 20s — my social life was a lot of fun — but there is a downside that inevitably comes with that minuscule amount of fame. When you start looking at yourself like a fly on the wall? That's just a dead zone. And I certainly can't make art if I'm thinking about what the audience thinks. So I've come to realize that expressing what I have to say and not worrying about a giant audience is something I enjoy much more. It was nice to have the immediate feedback and response, mostly on balance positive, to what I was doing. That's fortifying for anybody!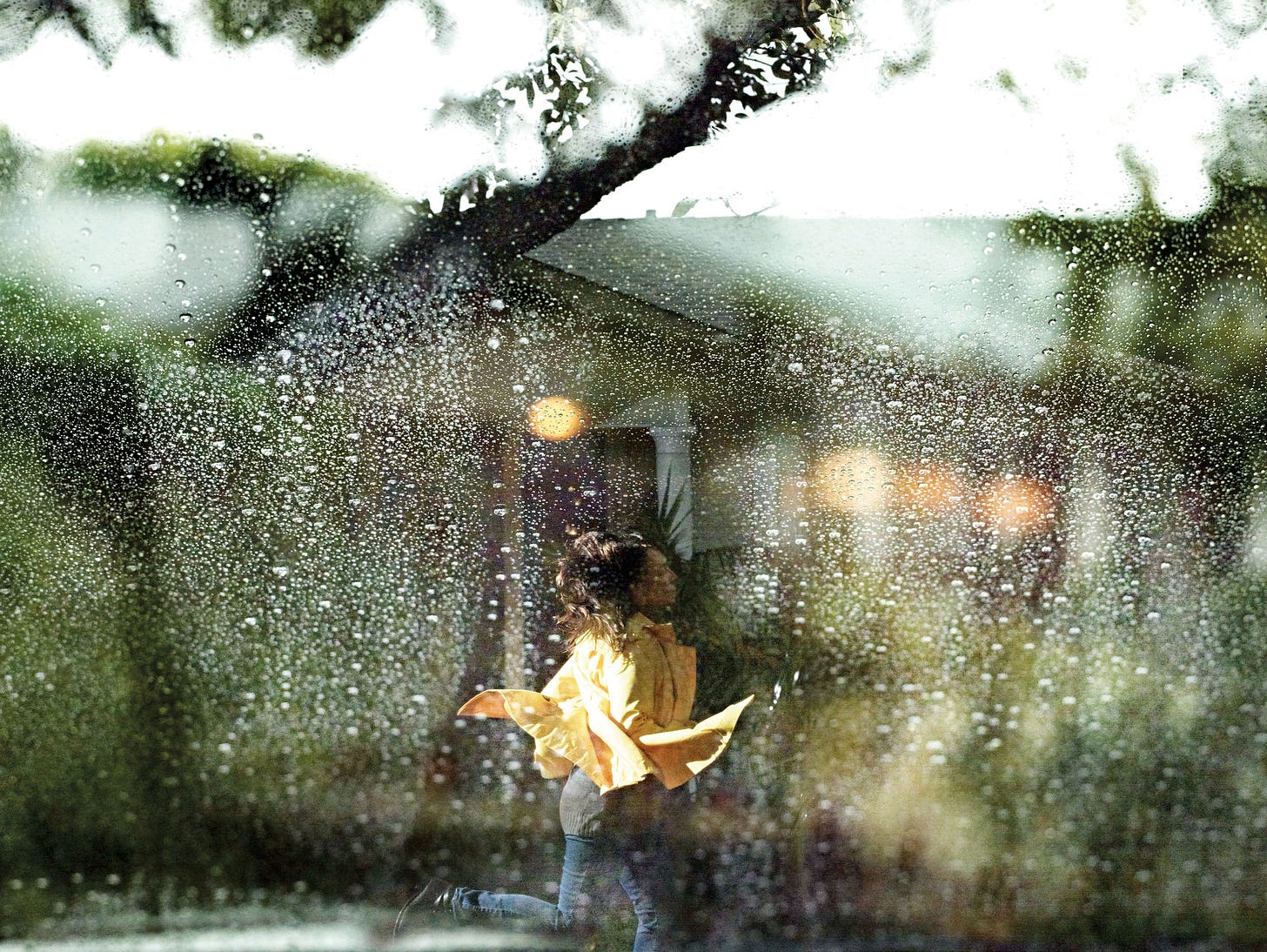 RUNNING, Equinom.
I imagine it was hard to be under the spotlight that intensely.
I wouldn't say I miss it. But I certainly appreciate it when people show up to my artist talks or a museum acquires my work. I'm not immune to that sort of outside validation. But it's a whole different ball game than having people point at you in a cafe and chase you down a street. I had a stalker. I had the equivalent of trolls. There's no good that comes of that attention. It's hard to talk about because in no way was it anything like what Madonna or U2 or Monica Lewinsky dealt with. It was small, but it was unsettling enough. I tried to concentrate on the perks of my job since I was in my 20s. When I wanted to expand my life to include a husband and children, or just…deliberate personal happiness, I needed to do was change gears. I was looking for a quieter, more nuanced life. Starting over in a different field has been a struggle but it's been worth the freedom to have my work be emotional, political and allow more grey area than I was able to within the objective world of journalism. 
What was the college experience like after so much fame?
When I went to Stanford as a Knight Fellow, we were supposed to learn to be better and more important journalists. Everyone else was having lunch with Condi Rice and networking their way to better positions at their media outlet, and I was just hanging out in the darkroom. I was in there so often they gave me my own key. I spent all my time with Professors like Art Historian Alex Nemerov and Feminist Studies Professor Diane Middlebrook. I felt so lucky to be in their graduate seminars. I got a chance to fall in love with something new. I feel blessed by that experience.
It gave you insight into how to be thoughtful and what makes a creative life fulfilling. 
That's right. At the time, I felt like Northern California was better at a multi-dimensional idea of happiness. The people I got to know here first were not limiting themselves to only a good career, or to only making lots of money. That was one of the key factors for me staying in California. I chose Berkeley because it seemed intellectually rigorous. People were trying to find and define what made them personally happy, and it was a wide array of different answers, whereas I felt in L.A. it was how famous you were, or how many degrees of fame from the most famous person in the town, that was success. In New York, it felt all about money. But I was in the position of having made money, never having had time to spend it because I was always working.
Probably because of my military background, my work ethic was already super-developed. When I was first working at MTV, I was one of the few people who knew the names of the Viacom night security guards, because I was always editing and rewriting after hours. I didn't have to be there, nobody was making me be there, but I wanted it to be the best thing it could be. I've never been easy to please.
What is the best part of your life now?
One of the best things is having my studio at the end of my driveway, so if I can't sleep, I can come here at 2 AM. I can be very productive in the middle of the night. Even when I was an intern at CNN, I was never checking the clock. I just wanted to learn as much as I possibly could.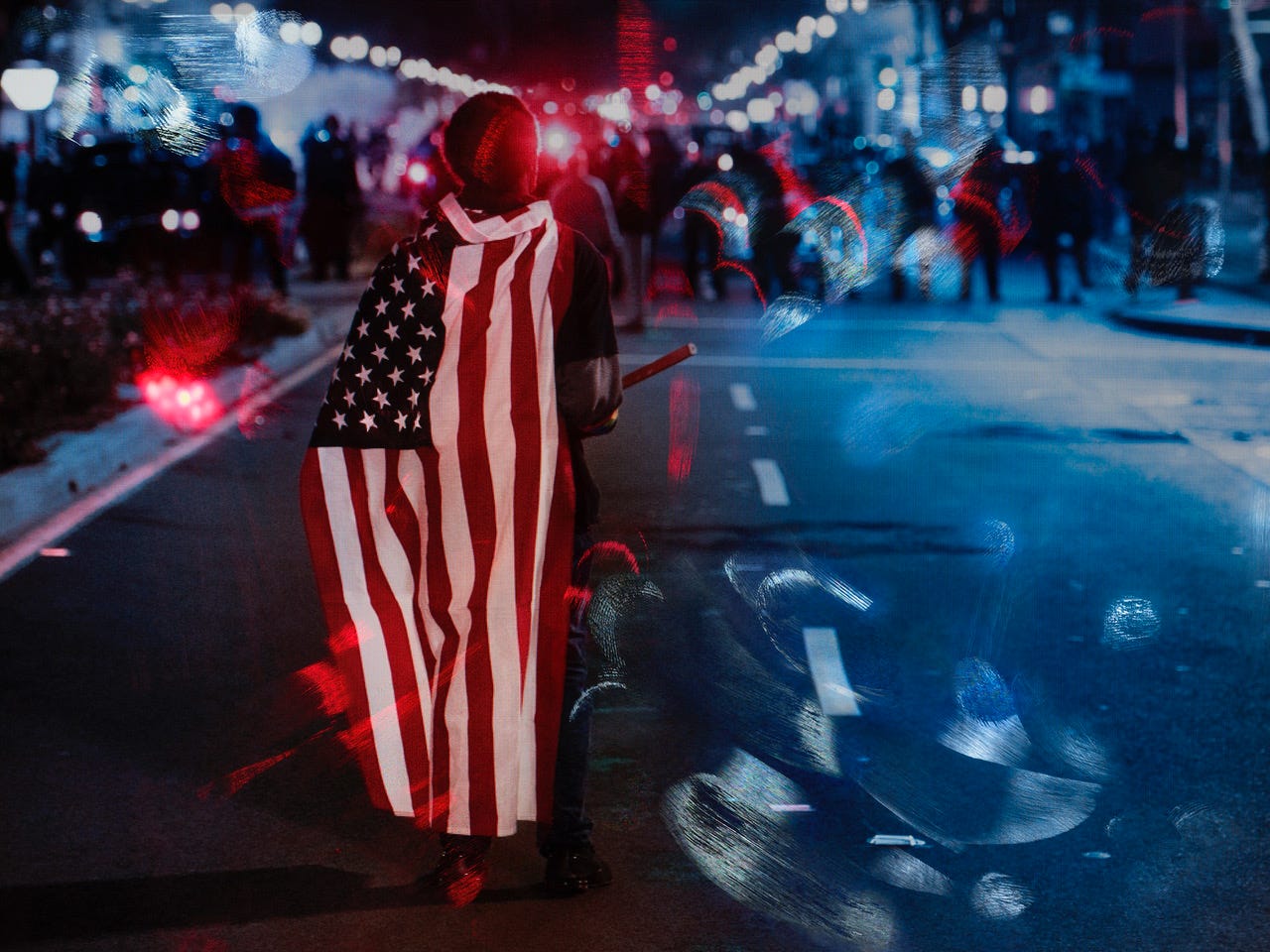 SURFACE TENSION, Orth Contemporary
What inspires your work?
I'm interested in how technology is distilling the culture and what effect it is having on us. But sometimes it comes from a very humble place that is more quotidian. I'm supposed to say it comes from a place like a fucked-up childhood, but often my work stems from an argument with my kids or the stranger I met at the gym. I don't understand why your actual life is not supposed to influence your work. That attitude in the art world seems very gendered. For me, creativity comes from the difficult twists and turns of everyday living. I don't wait for a muse. Sometimes it's just life as it's happening in front of me and it can be very emotional. There are other influences, yes: the panic attacks I had after my third child, or my sister dying of anorexia. Those are the things that influence the anxiety and pain and consistently dark, anxious part of my work. But sometimes it's just life going on around you, and trying your best to document and interpret it. It's all you can do.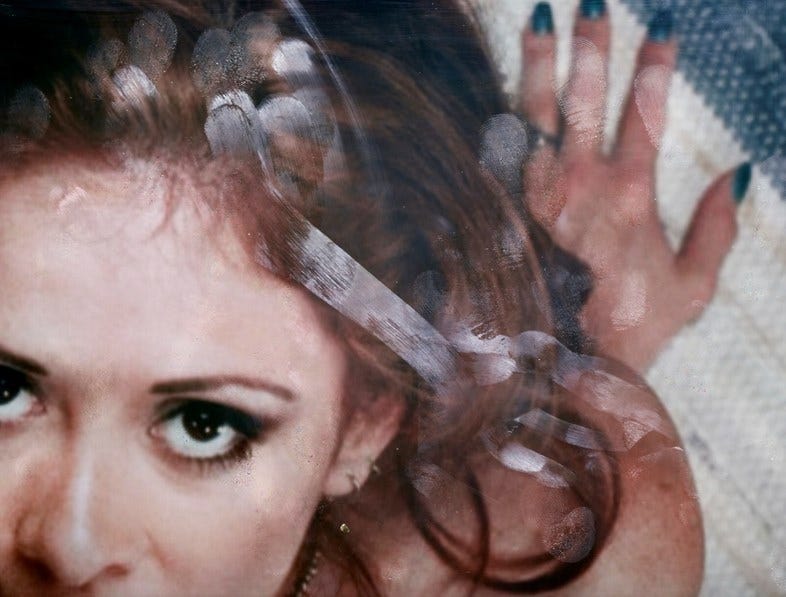 SURFACE TENSION, Orth Contemporary
---
Support:
The Anti-Racism Photography Fundraiser.
Mrs. and Fire Island Artist Residency's sponsorship of thirteen new, unique works by Damien Davis. Proceeds go to a selection of thirteen organizations committed to the amplification of Black voices within art, design, culture and social justice.
Read On:
The New Republic asks, "What Was the Dive Bar?" Jia Tolentino's discipline of hope.
On making anti-capitalist art. Why LinkinPark is big in China. Should we love or loathe the "15 Minute City." The zines that launched late Soviet feminist. A visual history of tarot.
See:
PS1's Summer School is in session. Peruse SVA's COVID Collection.
This "nanotech" chocolate looks like a rainbow keyboard. Cindy Sherman gets a solo show. A literal feast for the eyes.
Islands in the Stream:
Antigone in Ferguson: A performance of Sophocles' Antigone conceived of in the wake of Michael Brown, Jr.'s death in 2014, through a collaboration between Theater of War Productions and community members from Ferguson, MO.
The best online photography classes. A virtual preview of CHANGE, the first-ever "permanent ship-based polar art exhibition" aboard the National Geographic Endurance.
Learn stop motion animation. Clockshop x Hammer Museum's livestream of Carmen Argote's Last Light: a meditation on walking and memory in Los Angeles. 
---
Slow Ghost is a weekly newsletter covering the next wave in culture, brought to you by writer and producer Laura Feinstein. She is also the Design & Tech Editor at Kickstarter. Slow Ghost logo by Tyler Lafreniere.