Raymond Pettibon Appreciates Your Black Flag Tributes
When work takes on a life of its own.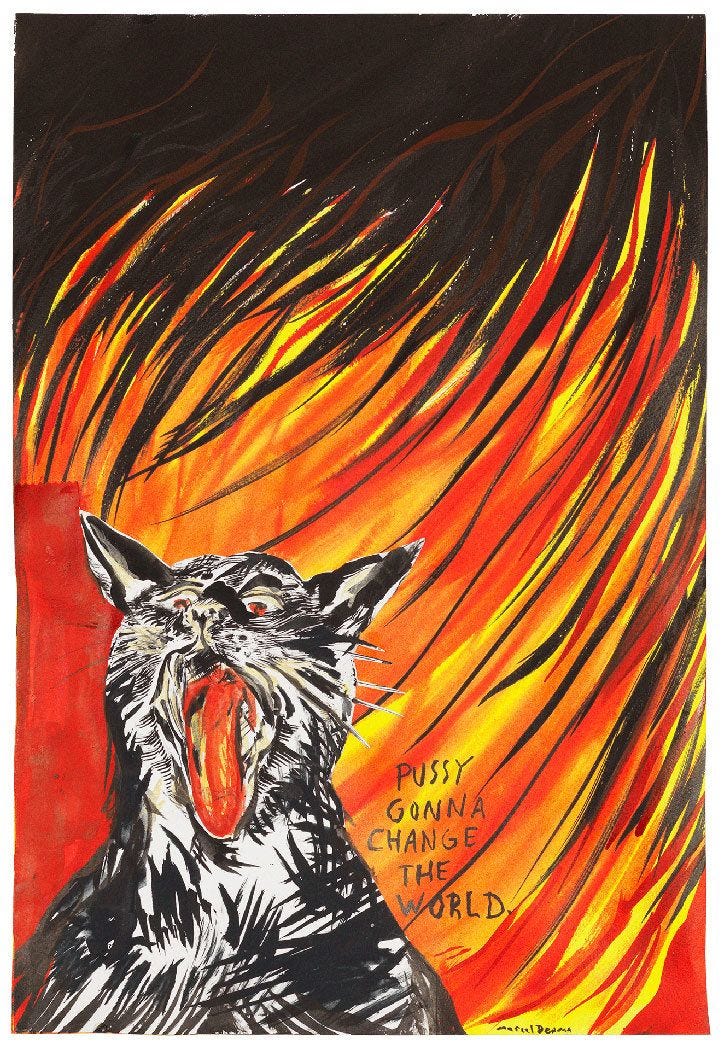 Raymond Pettibon and Marcel Dzama: "Pussy gonna change the world,"
Illegitimate President
, David Zwirner.
This has been a hot, fiery season.

Feel like you're holding your breath? I'd go into poetics, but I think Alexandria Symonds of the Times put it best:
"2020 really feels like, on the one hand, you're constantly waiting for the other shoe to drop but on the other hand, you know the room you're in is already filled with shoes, each of which you previously thought was 'the other shoe,' and you're buried up to your neck in shoes."
Right now, we are surrounded by an embarrassment of shoes.
So, I'll spare the cliched "low hum of summer's anxiety giving way to the busy of fall" spiel and simply say that if you're feeling off-kilter, or trying to find your footing, you're not alone.
I'd like to take a humble moment to thank you for continuing to support Slow Ghost as it travels to your inbox each month. And to new readers, your eyeballs mean the world.
---
A Quiet Moment with Raymond Pettibon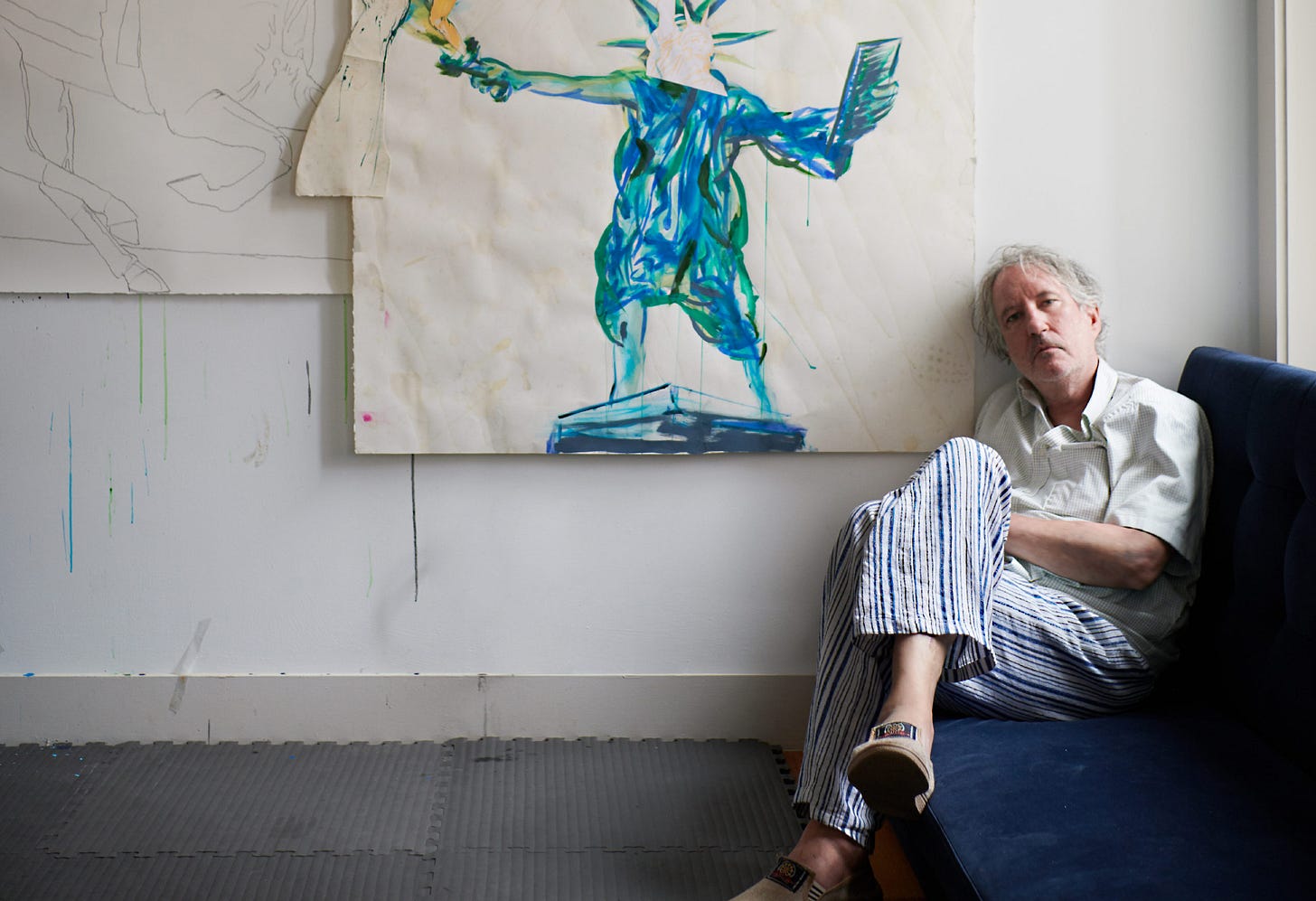 image © Raymond Pettibon. Courtesy the artist and David Zwirner
Raymond Pettibon is perhaps the only living artist whose work has appeared both in the Getty and tattooed on thousands of hardcore music fans. Rising to prominence in the early 1980s SoCa punk scene for his black-and-white zines, album art and ephemera for SST Records, including the now-iconic Black Flag bars logo, he later gained fine art acclaim for his works-on-paper drawing from American pop-culture, philosophy, politics, and the anxieties of the modern era. From his New York studio, Pettibon continues to build worlds that are colorful, energizing, and humorously sardonic. He also sketches the most fantastical, undulating waves—giving us life during quaran-times.
How are you "doing"? How is life right now?
Fair to middling. New York is pretty shut down for the most part. I haven't really left the place for any extent for the last…it's been a number of months now. I've been trying to do work when I can and it's not a huge difference to me, as much as it is to many people, I suppose. The kind of art I make is— it's almost a self-quarantine anyway, in a sense. 
So the world is catching up to your process?

I don't know about that (laughs). If it's voluntary, fine, but if it's not, that's unfortunate. In September, I have a show at the Regen Projects, that's the main one I'm working on. 
You recently did a skate and surf collaboration. Is this a different process than your gallery work?

Yeah, there isn't really much separation when it comes down to it, as far as the work itself.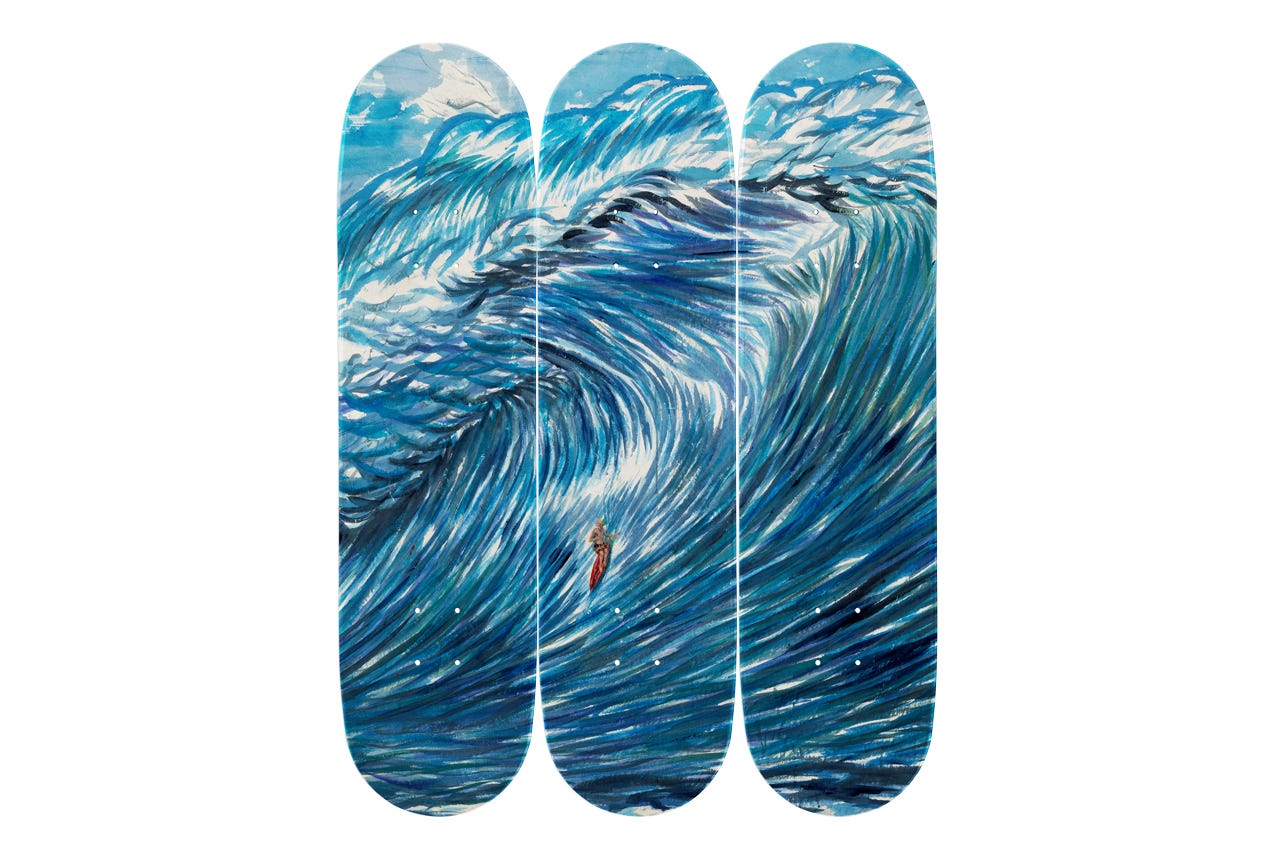 What are you most excited about right now?

That's hard to answer, because I don't get overly excited about anything nowadays, I guess. That's more of an inner condition probably. Or a personality. A "sensibility."
What's your process like when you go into the studio? 

Well, there's not so much a separation between the studio and the rest of my life and day. I can be anywhere when I'm writing. But probably my most productive times are done in transit, whether it's on the train, or car or plane.
So just bringing a pad and pen?

Yeah, it's something to do in that situation anyway. It's good to have something to do.
Given that so much of your work is political, and we're in this insane political moment, does the news influence your studio practice?

Not really. I've done a few shows that are more political, pointedly, but I don't shy away from politics any more than I do anything else. So, the work is inclusive of anything, potentially, and I don't know — things are so crazy that, if anything, it leaves me numb. And, what can we say, really? Or write? Or draw?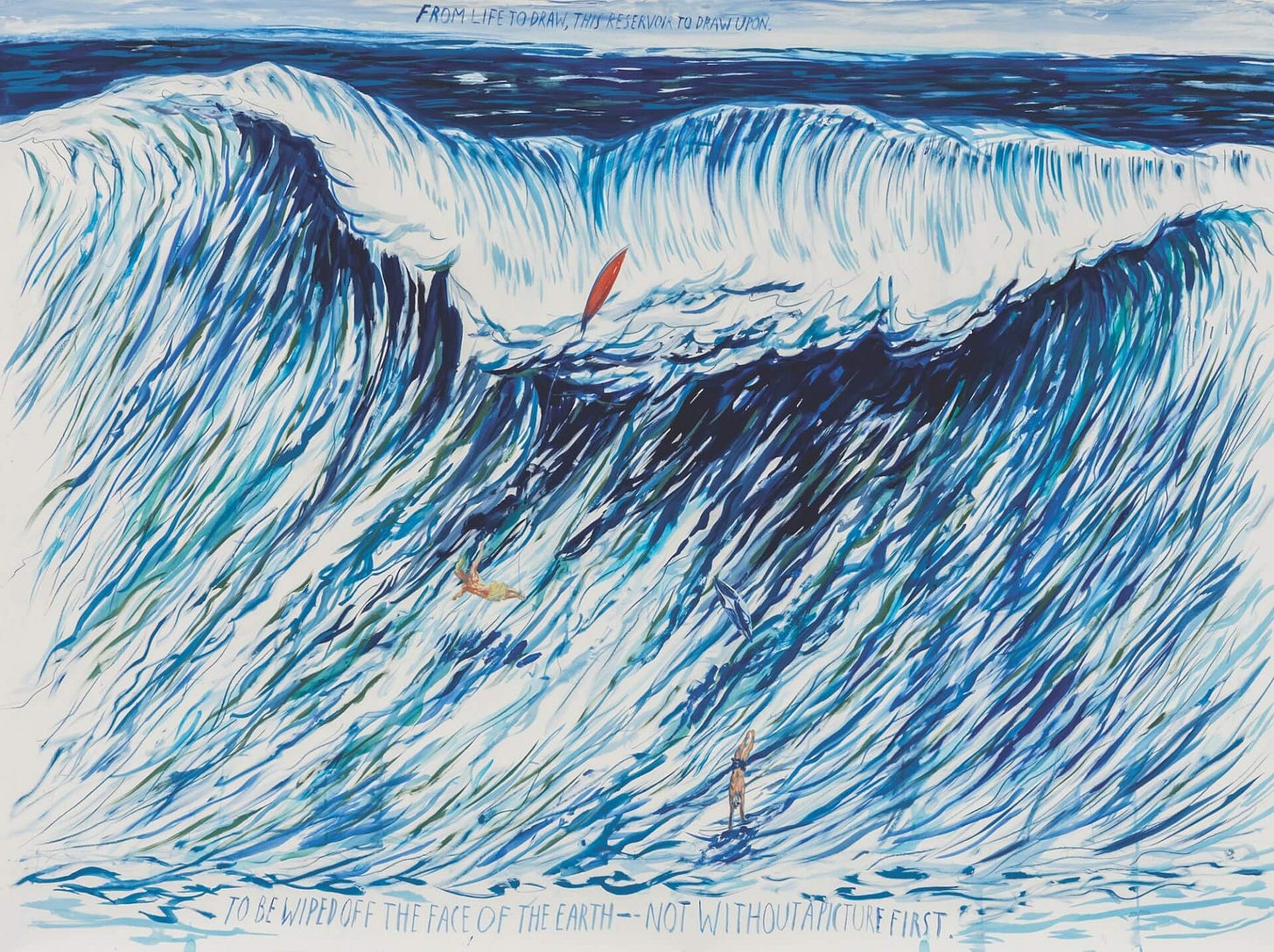 image © Raymond Pettibon. Courtesy the artist and David Zwirner
So much of your work is about the exhilaration of the surf and these larger-than-life Pacific waves. Do you miss the West Coast?

I'm overlooking the East River and Brooklyn Bridge here. It is a different experience. I've spent most of my life near the beach, in one way or another, and...I do miss it. It's been a while though. I've been here, what, 10 years or more? 
I think that makes you a New Yorker? Do you think you might ever move back?

It wasn't my choice in the first place, and whether I go back or not— it's contingent on factors I don't have much control over. But New York has its good points.
I took a road trip recently and noticed two companies had, well, counterfeited? Paid homage? To your work. Primarily your earlier work. What's it like to come across these tributes in the wild?

Well, I want to know about that. I mean, I don't keep up with that. You mean to bootleg something? To counterfeit and put it up as my work? Or to do a parody of it? Like that Sonic Youth album cover where there's a plethora of parodies of it? Which, I'm all for! But I don't fully sign on work, that's not my role. I wouldn't want it to be. 
One was for a bike shop in Williamsburg and the other was for a hardcore band. I can't imagine how surreal it must be to have created something that now has a life of its own?

Yeah, that doesn't bother me at all. That's not something I would look askance at. For one thing, I never got a cent from SST or Black Flag, not one cent. So, to worry about the economics of that doesn't make any sense. And it did assume a life of its own — from tattoos and whatever. It's fine with me. I've never had any problem with any of that. I wouldn't say [I see it] day to day, but no, it's not an issue with me. 
Do you think your early work still fuels you?

I don't see it as removed from what I do now. There's no cut-off point. It was all done the same way. It wasn't for commercial reasons. They were drawings. And, of course, this evolved, but it's evolutionary. Where do you draw the line on the early work and the later work? I don't know if that's possible, really. But then, I've been doing it for so long. And I've probably purposefully stayed away from having an individual style. But, of course, that's unavoidable, whether you want it or not. But I don't like to do the same thing over and over. 
It was always fine arts. If you're talking about the flyers and the covers, it wasn't that punks were my audience. They weren't. This was, how many years later? 40 years later? There's probably more interest in the 70s and 80s punk now by some much younger people then there's ever been. For whatever reason. But at the time that wasn't the case.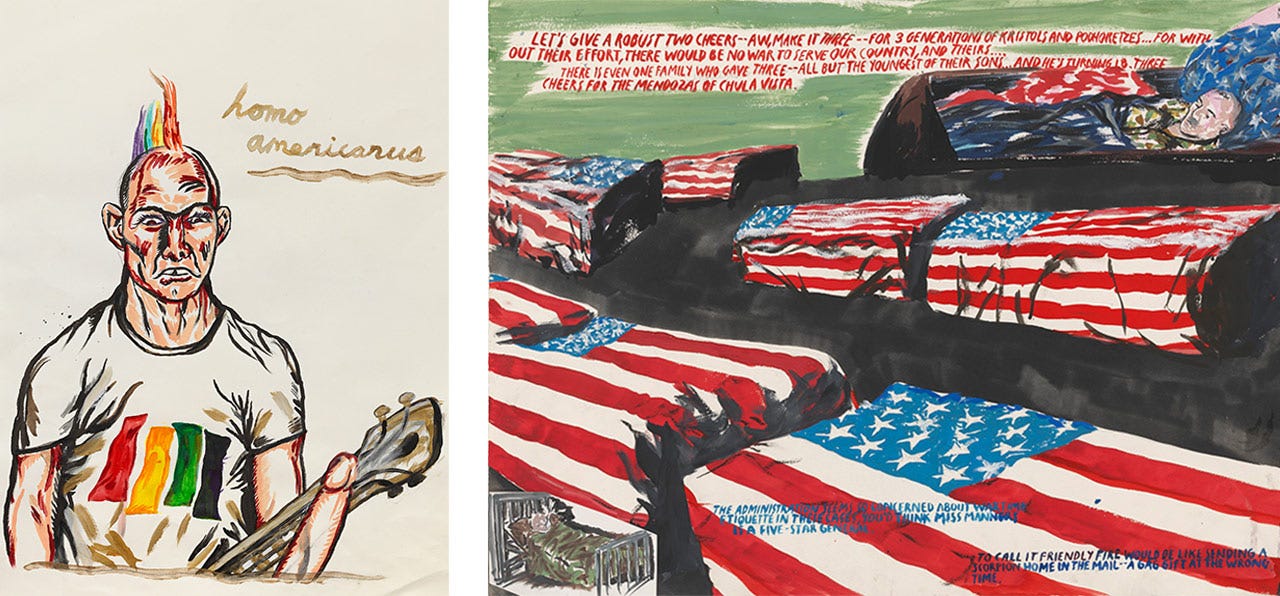 Left: Raymond Pettibon, No title (Homo Americanus), 2015. Courtesy: The artist and David Zwirner, Berlin. Right: Raymond Pettibon, No Title (Let's give a . . .), 2006. Courtesy: Hauser & Wirth
You started out in economics. Did that highly-ordered thinking inspire your style?
I got my degree in economics, but by that time I was involved in other things. But it does influence my work, sometimes. There's an economic way of thinking, you can put it that way. But it's neither a science nor a religion. 
Do you ever find yourself going back to it?
I was completely estranged from it for a while. But when I was at the Getty Institute for a fellowship, I was surrounded by scholars, conservators, critics, art historians — and then they had one economist from Duke and me. They knew that I had somewhat of an economics background at some point, in some way. So, that was the first time I went back to it. The fellowship. And that was a crash course. Since then, I do keep up with it, somewhat. For whatever reasons. Not for any fortunate or practical reasons, just out of curiosity. My background as it affects my work practices is more from literature though. Fiction, for the most part, poetry, letters.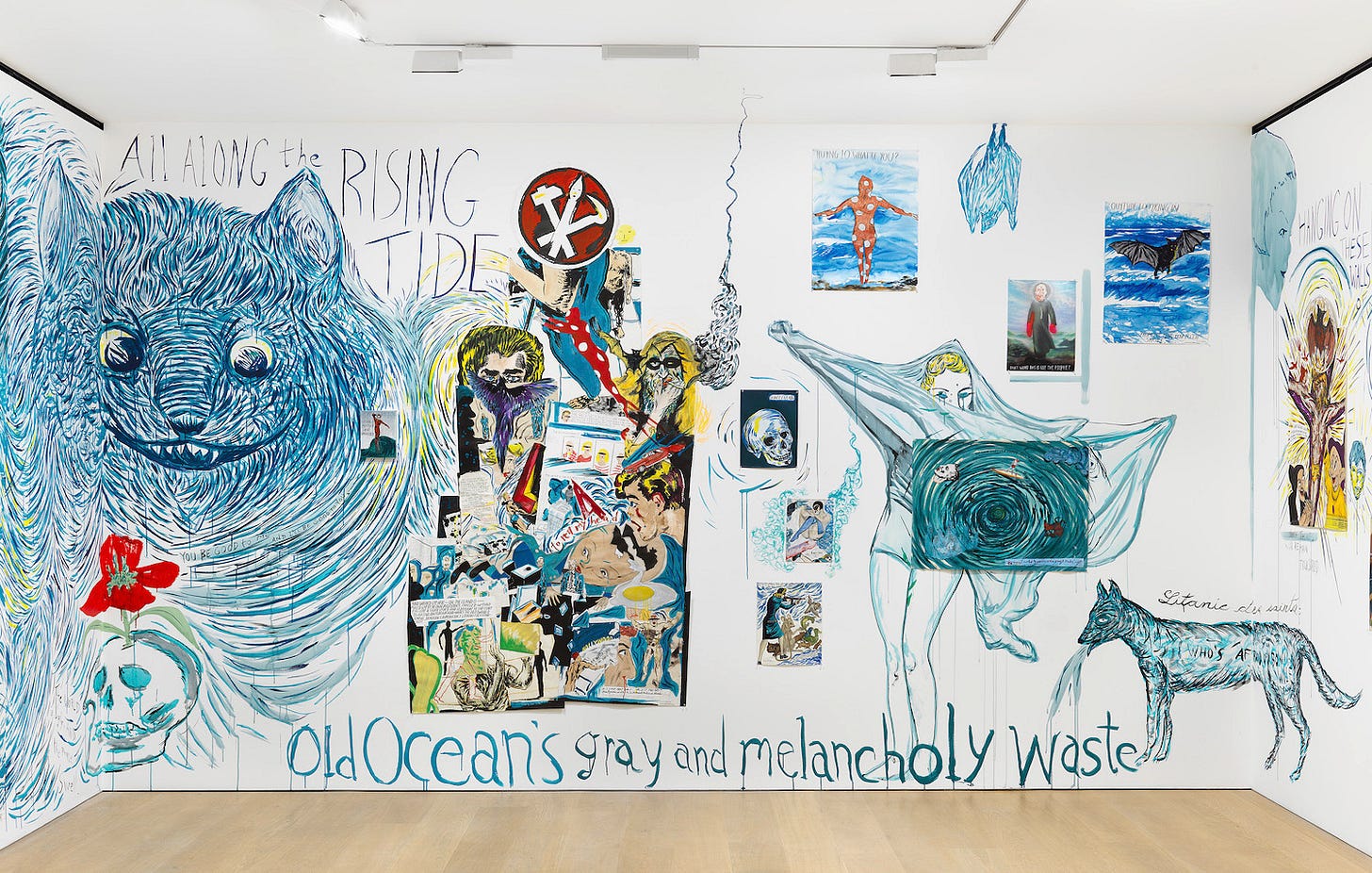 Installation view of Marcel Dzama and Raymond Pettibon's Let Us Compare Mythologies at David Zwirner London
So it wasn't such a direct inspiration.

I work more from between the lines. It can come from many different sources. Sometimes it's borrowed or rewritten as I read it. Obvious notes and writings that I'm sure I'll never live long enough to exhaust. But for the last couple of years or so I haven't been working so much from my notes. It's been on the spot. 
If you don't mind me asking, what's your process?

I have no problem with it. I'm for transparency if anyone's interested, but probably not, on my working method. I mean, I could explain in detail. I don't know if anyone would mind that, but I don't know if there's any reason for that. It's like a magician sharing his secrets. There's a pro and con to that. I'm not against revealing anything. But to who?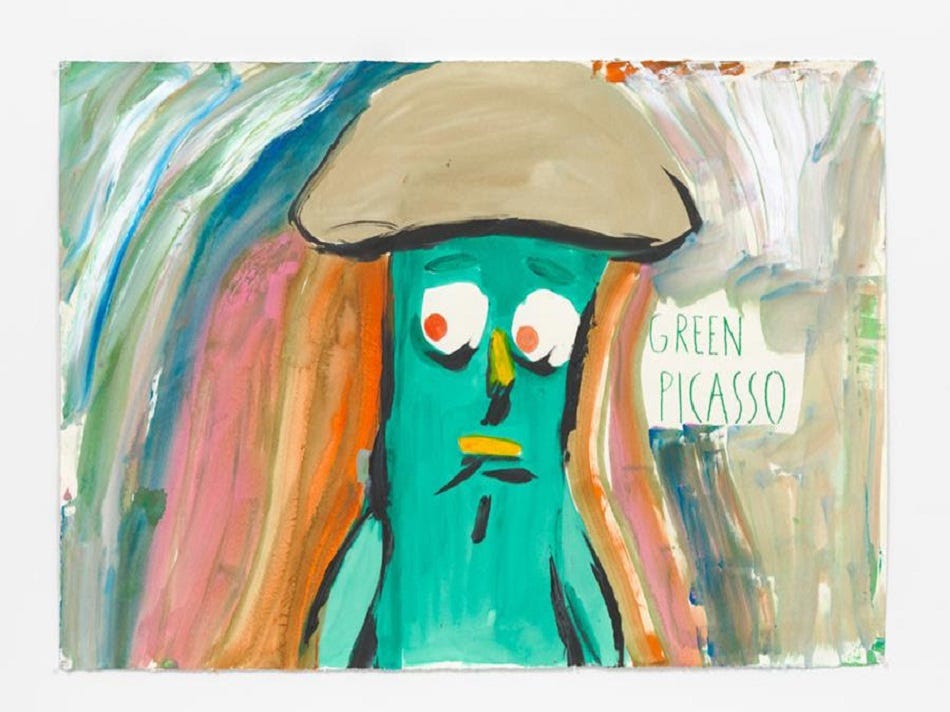 Raymond Pettibon,
 No Title (Green Picasso)
, 2019.
David Zwirner
When you pick up a pen, do you have any idea where it's going to go?

It depends. Sometimes, there's a number of motifs that come up, pop up, every now and then. Sometimes I do the drawing first, sometimes I have an idea, or notes, and it starts there. I like to keep the tension between both. I've been at this a long time, and I don't think I've ever had writer's block on the visual part of it.
Do you have anything planned for the near future?

Mid-September for the L.A. show at Regen Projects, but beyond that, I don't even know my schedule. I don't like working with deadlines, but sometimes it's necessary. But I haven't been working as much as I usually do in the last couple of years.
Thanks for chatting with us during this bizarre time.

I hope this is useful to anyone. In a way, I'm always surprised anyone has any interest in my work, and I truly appreciate it when they do. I'm not working in a vacuum. I am grateful to have any audience at all.

[This interview has been edited for length and clarity]
Installation view; Frenchette,
David Zwirner
, Paris, 2019.

Raymond Pettibon
Pacific Ocean Pop
September 12 – October 31, 2020
Regen Projects
---
Read more: When 50 cent sampled the queen of Soviet pop. How to make mutual aid work sustainable. Meet the Black design collective reimagining cities. Kilo Kish on finding freedom in experimentation. A road tripper's guide to artists' homes across the U.S.A.
Support: Super Fund for Beirut, a multi-year fundraising plan in support of grassroots and independent NGOs on the ground in Beirut. Jacob Blake's GoFundMe. The Milwaukee Freedom Fund. Fund Enough of Trump: a campaign by Carrie Mae Weems, Ed Ruscha, LaToya Ruby Frazier, and Christine Sun Kim (among others) in collaboration with People for the American Way.
Check out: MoMA Design Store's righteous Design Innovations for Women pop-up. Miya Ando's "Xanax for the Eyes, Zen for the Soul." Tear through Orange Crush: The Journal of Art & Wrestling at Printed Matter. Draw your humiliation in comics with Gina Wynbrandt. Artists Band Together, featuring Hank Willis Thomas, Rirkrit Tiravanija, and Barbara Kruger (among others) in partnership with eBay. The Asia Society Triennial x Mina Cheon's new digital initiative: Eat Chocopie Together, which invites anyone, anywhere, to "extend love and peace by sharing virtual Chocopie."
Islands in the Stream: 92nd Street Y's 10-part series of never-before-released interviews with American fashion icons. Jenny Hval at National Sawdust. Oliver Sachs: His Own Life at Film Forum.
---
Slow Ghost is a newsletter covering the next wave in culture, brought to you by writer Laura Feinstein. Slow Ghost logo by Tyler Lafreniere.