Marilyn Minter Wants You to Vote
"This is the last gasp of the patriarchy, hanging on."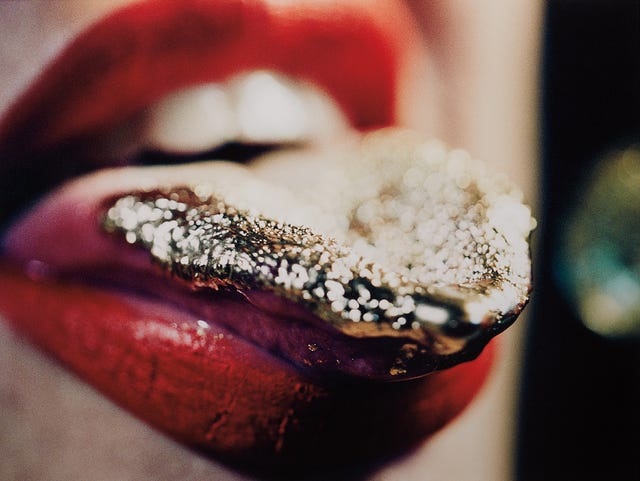 Marilyn Minter, courtesy of the artist.
With the election less than a few days away I have a feeling we're all just vibrating with anxiety so I'll keep this short: thank you all for supporting Slow Ghost. This has been a true labor of love. Things are hard right now for everyone, and your kind words mean the literal world.
If you enjoy what I've been putting out, and want even more Ghost—or would just like to say "Hey! This is cool!"— I hope you'll consider becoming a subscriber. Don't worry: merch is on the way.

Over the last year, I had the privilege of chatting with artist Marilyn Minter several times. The first was in January before Abortion is Normal: An Emergency Art Show, where we discussed reproductive freedoms for The Guardian.

Over spring and summer, we chatted about fascism and democracy, and her work in We Fight to Build a Free World, up now at The Jewish Museum. The show is a survey of a century of protest art, and includes pieces from Kim Gordon, Marcel Dzama, Christine Sun Kim, and Adrian Piper—all of whom I interviewed for this piece. Since I could only include a few quotes, Marilyn was kind enough to let me re-publish her words here.
This interview has been edited for length and clarity.
---
The Opposite Of A Feminist Is An Asshole
Marilyn Minter is a visual artist, activist, and photographer known for fusing the sensual and hyperrealistic, creating imaginary worlds of grit and glamour. She is also a teacher at the School of Visual Arts, a former recipient of the Guggenheim Fellowship for Fine Arts, and a total badass. Recently, she worked with the artist-run platform For Freedoms and Kickstarter on a billboard poster for the 50 States initiative—the largest creative collaboration in U.S. history.
As part of the Jewish Museum's We Fight to Build a Free World exhibition curated by Jonathan Horowitz, on view now, you can catch her poster, Cunt (2020), in all its luminous glory.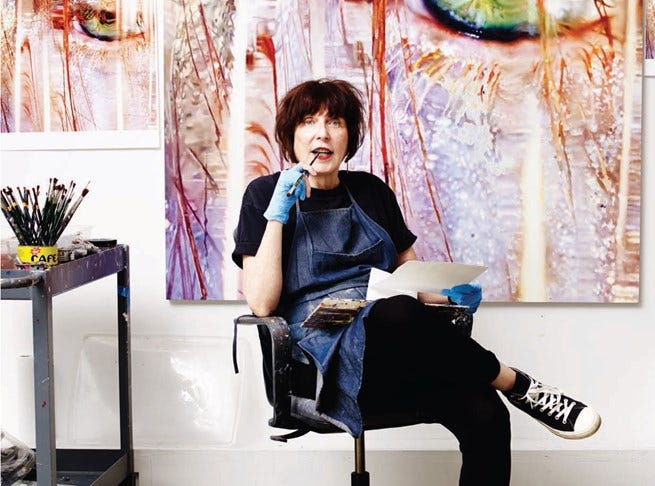 Image courtesy of Marilyn Minter.

Can you tell me more about your piece in We Fight To Build A Free World?
You mean "Cunt"? (Laughs.) Well, it's trying to reclaim the word. The idea that if we're going to be called cunts I'm going to shove it down your throat. I took it from queer theory, the idea of owning and reclaiming, and did a whole series called "My Cuntry Tis of Thee." It's friends and collaborators, writing on steam, on glass, with phrases like "No Cuntry for Old Men" or "Cuntroversy."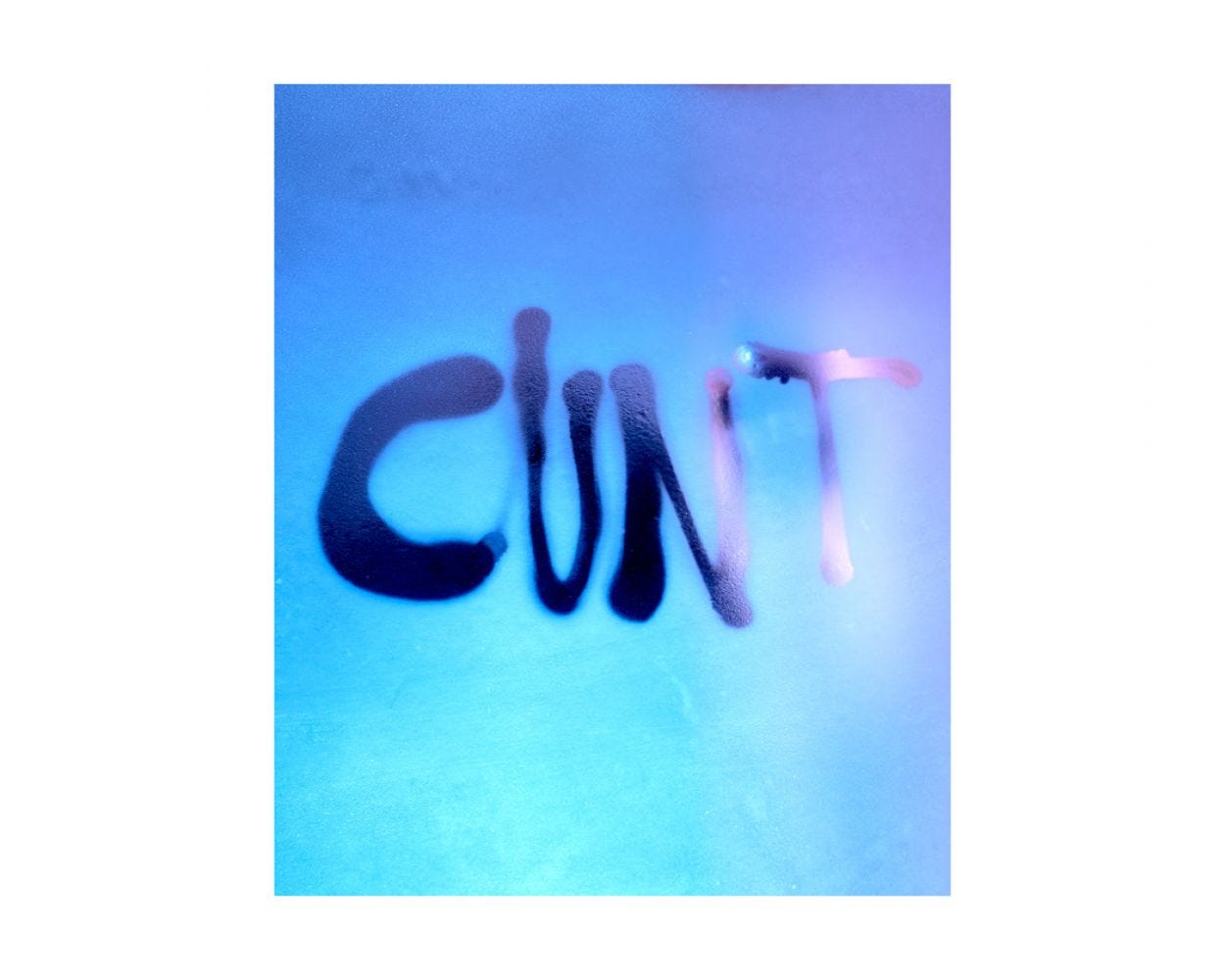 It's very powerful.
Do you know what the opposite of a feminist is?
The only thing I can think of at the moment is Donald Trump.
I think the opposite of a feminist is an asshole. That's how I look at it. I think you gotta be an asshole to be against feminism. When Jonathan asked me to be a part of We Fight to Build a Free World, I just thought, "this [show] is for cunts".
You've worked with Jonathan Horowitz before.
Yes, we've been working together since 2016, two weeks after Trump took office, and right off the Women's March. We were in a collective together, HALT, that folded into Downtown for Democracy. It was a guerrilla action group for eight months—we did the Trump plaques wheat-pasted all over the city, a protest factory at Deitch Projects. Jonathan also worked with me on the Anger Management show at the Brooklyn Museum. And we've been marching together, literally marching, for years. We did a lot of work for 2018 and the election. He's a beautiful letter writer. I'm just a propagandist. I could do slogans, that's all I'm good at (laughs).
Well, I would definitely consider you more! For many young feminists, you've become a driving force in the political art landscape.
Thank you! I don't consider myself at all a political artist. I consider myself an artist who happens to be far left-leaning. And very concerned about it. I don't even think I'm that far left anymore. I used to be, but now I vote strategically. You've gotta win to turn left—the stakes are too big!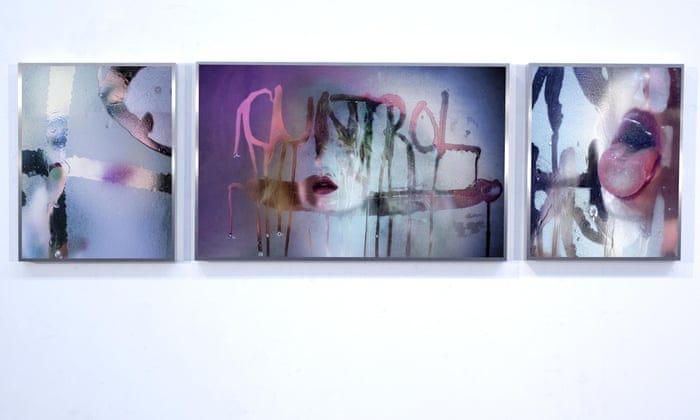 Marilyn Minter, from the
Abortion Is Normal
group show.

Collectively, many are realizing we haven't "come as far" as we thought.
Two steps forward, one step back. That's how we make progress. And with Obama—we thought we were on the right path. After eight years, it felt like it made sense that Hillary would win. But what we saw was just pure misogyny. It's all so clear cut now.
With the country in its current state, both politically and with the pandemic, it's hard to know where to put your attention and efforts. How can we not go crazy?
Just keep talking about it. That's my experience. I tell everybody: if they want to do anything, join Swing Left. I do all kinds of things for Swing Left. There really are things you can do! Just be a volunteer. Because if you do something, you'll feel a thousand times better. I do it for myself. And you're a writer, so you have a massive voice.
Well, with the state of media, it's getting harder to tell meaningful stories.
There will always be this little corner that you can be proud of. There's always a place. You just need to find that place. I'm an old lady, that's why I can say all this! I would just look for that corner. You can always find like-minded people, and then you don't feel so bad, even if you're in the minority. If you have just a few people you can just vent to, you'll be okay.
Especially in the creative community.
Artists are empathetic. You can always count on artists to make something that is poignant. They are deeply touched by injustice. They are interpreters of the times we live in, and you can count on them. There might be some that aren't, but I've never met one!
In We Fight to Build a Free World, art's power to inspire empathy and action is given a broader historical context. It just feels so prescient.
It's true! Jonathan's show couldn't be more timely. It's more important than ever that we get out the vote and vote in such big numbers that this monster has to leave immediately. I've never seen democracy this fragile. It's like every generation seems to have to learned nothing and we have to relearn all the lessons of history. Nothing has changed in war and peace and justice and serenity since the beginning of time.
I don't want you to lose the rights that I fought for. This is the last gasp of the patriarchy, hanging on. I always wondered, "during the fascism of the early 20th-century—how could people support it?" And now I see it's a fear of losing something you never had to begin with. I'm hoping we can keep it from happening this time because we have so much more information. Thank god for Jonathan and artists like him.

It feels like the right moment to find new ways of engaging with politics.
Eckhart Tolle has said that this pandemic is historical. It's going to change everything. And the art world is going to change as well. We don't know what's going to happen. The recession that's coming won't hit the 1 percent the way it will hit the workers. The stores, the restaurants. It's not an equal opportunity destroyer. I'm frequently in Soho, and it's just one empty storefront after another. But once we have a vaccine, I'm hoping young people can move to New York City again, like I did in 1976. That young artists can come here, and there will be a whole new world. Right before the pandemic, Manhattan was the city of the very rich. Now, rents are coming down like crazy. It's a new birth.

Do you think it'll affect what we need out of art?
Art's a language. It's an interpretation of our reality. It's a metaphor for what we're experiencing. It's satisfying because it creates a clear visual picture of some messy thoughts in that ocean of our brain. It makes something simple that's very complicated. John Baldessari once said, "great art is clear thinking about mixed feelings." And that's what we get out of art, and that's not going to change. It's what the creative process is all about.
I hope we will be able to sustain this momentum, especially in terms of real social equality and justice.
It's so much better when you have parity. I love what's happening with institutions reaching for some balance. So many have been marginalized for so long. And the BLM movement now has a ton of allies. That's what gets things to move. The future is so clear. I just want to make it a transition without a civil war. We gotta learn our lessons before we let them take over. History is not going to be kind to these people.
---
Read on:
Check out:
Support:
Slow Ghost is a newsletter covering the next wave in culture, brought to you by writer Laura Feinstein. Slow Ghost logo by Tyler Lafreniere.